Posted on 21, October, 2015
Last Modified on 06, September, 2023
Designing a new retail floor plan for a small storefront can be a rather large process. However, just by keeping in mind the five primary floor plans (straight, diagonal, angular, geometric, and mixed) you can make your life much easier. In this article we will help improve your retail store by discussing the top visual merchandising techniques, along with space saving displays and fixtures. We will also explain how the proper placement of your displays, products, and registers will result in more sales and longer customer shopping time.
What is Visual Merchandising?
Visual merchandising is the use of store displays and floor plans to highlight products, attract customers, and maximize sales. Goods are usually displayed in an aesthetically pleasing and engaging way design to promote the features and benefits of a particular product. In a small business, thinking about and tackling the visual merchandising in a store can make a real impact on sales! These visual merchandising ideas and tips are easy to implement and designed specifically for businesses with small sales floors.
Choosing Your Space Saving Floor Plan
Straight
The straight floor plan is great for almost any store. It is the "default" floor plan, if you will. With floor displays and fixtures placed at right angles, it is easy to use every section of the store. You can even fill corners with shelving or displays. This layout works with any type of product or display, no matter the size. For example, straight floor plans easily accommodate all displays such as slatwalls, gondolas, and shelving. The straight design also makes it possible to fit the most aisles on your sales floor.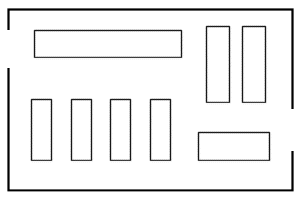 Diagonal
Diagonal floor plans are perfect for smaller retail shops, self-service stores, or any store that wants more visibility for staff and shoppers. This diagonal aisle design is one of the best for minimizing retail theft because it makes it possible for the staff to see the entire store from any location.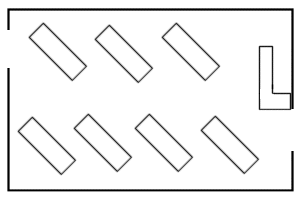 Angular
We know, the design to the right might not be what you're picturing right away when you read the "angular" title, but considering the way in which customers move throughout the store with this layout, it makes perfect sense. This plan forces customers to move at angles throughout the store, usually in a circular fashion around one central display table. This arrangement is done purposefully because the visual merchandiser wants to create a more sophisticated scene for each type of product. You will see this type of setup in most high end clothing and jewelry shops. It is important to know that this kind of retail floor plan is for businesses with fewer products and more open retail space.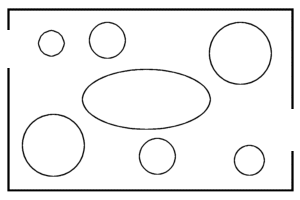 Geometric
The geometric, or geo, floor plan is another design that creates a unique store feel and design by utilizing racks and fixtures for products in an interesting, unexpected way. The geometric shape is more about giving the store a unique look than maximizing floor area, and it has been used successfully to set retailers apart from mom-and-pop shops to big box stores.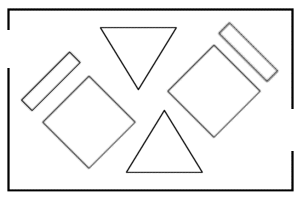 Mixed
The mixed retail floor plan takes the best elements from the above designs and combines them together into one. The best way to apply this design is to break the store into sections and then divide each section up by the type of design. Diagonal, straight, and angular floor plans are some of the best options to use when creating a mixed floor plan but retailers can get very creative and develop endless combinations.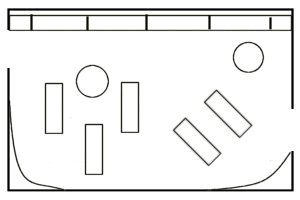 Retail Space-Saving Fixtures & Displays
We recommend these space-saving retail fixtures to help you get the most of your small space:
Extra Tips & Tricks
Here are a few other tips to attract customers to different displays and fixtures throughout your small store space:
First, appeal to your customers' senses. If you have music, perfumed products, or food, let the customer sample the product. This will allow them to experience more from the product and will give them more of a reason to purchase the item.
Fixtures and displays need to be at least 3' 6" apart to meet ADA specifications.
Make sure displays and fixtures represent your brand.
Put necessities towards the back. This will cause customers to work their way through the entire store to get to what they need, passing everything else on their way. Place registers towards the back of the store at natural stopping points. Cashiers should be able to see most, if not all, of the store from here.
Lead them somewhere. Make the customer experience a journey through the store. For example, when an aisle ends use a perpendicular fixture or wall rack to retain interest of what is next.
Angle your displays. This piques customer interest because it is not at a normal parallel view. The best way is to use a double angle (if the aisle is big enough) so that customers can see it from both directions.
Create visual breaks, or "speed bumps", in the middle of aisles with displays or signs so customers don't get overwhelmed. Just make sure that the displays aren't taking up so much room that it slows traffic.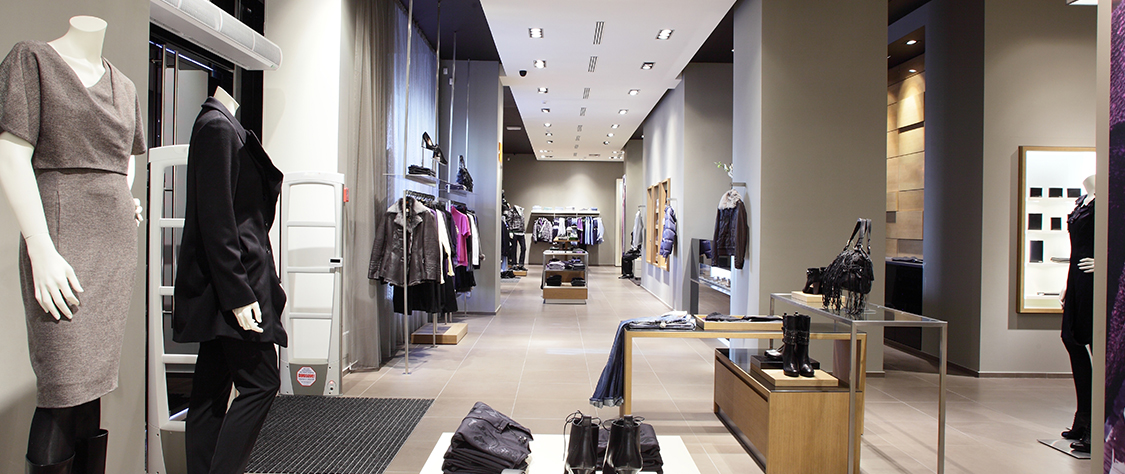 Common Retail Store Design Mistakes
There is no universally perfect floor plan. Each type of business must develop a tailored solution that accounts for spatial limitations and customer needs. What works well in one retail store might not in another, but here are some simple design faux pas to avoid:
Overcrowding Your Sales Space - Too many fixtures crowded into a small area will make it difficult for customers to maneuver and for multiple people to walk though. Make sure sales areas are wide enough for two-way traffic. Also, make sure that your products are evenly spaced and not too thin on each display or fixture. You want your customers to be able to find everything easily.
Too Many Variations in One Place - Having too many styles of fixtures can confuse and even deter the customer. Avoid driving the shopper to another section (or worse another store!) because a certain area is too congested and confusing.
Roadblock at the Start - As soon as the customer walks in they should be able to visualize the overall layout and path that they take to find the product they are looking for. If they walk in and have a blocked view they may become overwhelmed and anxious before they even decide which direction they should head. Don't make them guess; make it obvious.

Do You Have The Right Design?
You won't know if your retail floor design works perfectly right away. Odds are that you will still have to make some adjustments once you see how your customers actually browse the store. When customers enter, examine how smoothly their shopping experience is. Notice if they can't find something or where they stop and look at product more closely. If you notice that they frequently ignore certain displays, it might be because the display isn't positioned correctly or in the right space. Most importantly, collect feedback and ask your customers about their shopping experience or if they have any questions.