Multi and Dual Monitor Stands with Clamp or Grommet Attachment
---
Tabletop Monitor Stands for Multi or Dual Screen Workstations
Does your desktop or cubicle feel cluttered, crowded, and too messy to focus on your work? Our multi and dual monitor stands are the end-all solution to increasing productivity in your workplace or home office. The flat panel holders are able to hold between two and six individual screens so you and your employees can multitask and foster a more efficient environment. Multi and dual monitor stands allow users to run multiple programs at once from the same desktop computer or juggle several open windows at once. These height adjustable screen mounts make losing a minimized tab a thing of the past; simply drag spreadsheets, web pages, emails where everything can be visible at once. Our multi and dual monitor stands are securely affixed to any desktop via table clamps, a stable base, or grommets. Many mounts have landscape or portrait orientation comparability and are able to rotate, tilt, or swivel as needed.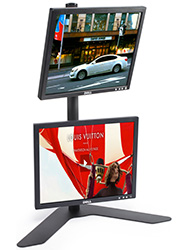 How do desktop computer screen holders help with workplace productivity?
Multi and dual monitor stands lift displays off counter space, leaving more room for additional tools such as notepads, keyboards, books and whatever else you need to succeed. Many options include a cable management system as well, decreasing the visibility of wires. An organized desktop helps employees focus on the task at hand rather than becoming overwhelmed or distracted with clutter.
Tilting dual monitor stands help employees collaborate more easily by rotating into view rather than forcing them to huddle around a desk. Simply swivel the screen to the side to share information and slideshows or to compare notes and insights seamlessly. Rotate screens horizontally or vertically to best reflect specific data sets or news feeds.
Dual monitor stands are an essential multitasking tool for business and home offices. Many models include mounts for multiple screens as well as keyboard and mouse trays for an all-in-one fixture. Some dual monitor stands are height adjustable and can be used as a standing desk which promotes a healthier workplace.
Our monitor stands hold LCD screens and flat panel televisions securely in an office setting with brackets or grommets. Our largest side-by-side desktop mounts can accommodate up to six 10" to 32" screens, perfect for computer screens with different settings, functionalities, and purposes. Control the height, orientation, and viewing angle of your monitors. For larger electronic displays, browse our selection of ceiling, desk, and wall mounts for home, retail, or office use. Displays2go has a large variety of stylish and functional TV monitor stands for businesses to share their electronic advertisements with customers or internal message boards with employees.