Trade Show Booth Display Walls Showcase Products and Promo Materials
---
Hook-and-Loop & Gridwall Panels for Mixed-Media Event Presentations
Do you prefer to let your product do the talking? Trade show booth display walls cut right to the chase by letting visitors see what you have to offer — up-close and in-person. Big, flashy printed graphics have their place, but they lack the versatility of hook-and-loop or gridwall panels. Incorporating a tangible element alongside these impactful visuals engages visitors on a deeper level. Capable of showcasing branded banners, literature holders, and products at the same time, these trade show booth display walls make the most of your available space. The ability to remix your visuals as often as you like is an often overlooked benefit. Utilize several elements that can work in any order and test out what works best for your business, or tailor your message to a specific event without having to rebuild from the ground up. The fight for mind share in an expo setting can start to feel like an arms race, with bigger and bolder graphics taking up more and more real estate. One out-of-the-box strategy is to let visitors go hands-on. Trade show booth display walls that have a tangible element that guests can demo and feel for themselves are much more likely to stick in their minds after the event ends. These panels and boards are all about the freedom to make your vision come to life — and change your mind as often as you like.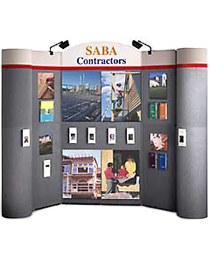 What types of trade booth display walls are available?
Hook and Loop Exhibition Stands — Well-suited for a mix of lightweight products and graphics, these panels offer the most flexibility in terms of item placement. Position elements anywhere across the surface using hook & loop strips: play with orientation, spacing, and density to find the right layout. Accessories like acrylic frames and brochure holders make it even easier to incorporate take-aways and signage into a multimedia presentation. Folding panels are the easiest to travel with and assemble, and are available in both freestanding and tabletop sizes. Large-scale backdrops offer more space to create impressive presentations and come in both curved and straight form factors.
Gridwall Fixtures — For a heavily product-forward mix, these panels offer the strength to hang weightier items on pegs and hooks. Go with floor standing towers for a modular setup that can be moved around at will. Wall-mounted grids are a great way to integrate some live products or prototypes onto a static graphic backdrop. Place stacks of promotional giveaway items where everyone can see them to help generate more buzz. Making a tangible connection with visitors can be the difference between a memorable experience and a forgettable one. Facilitate that interaction with these gridwall fixtures.
Art Display Panels — Typically seen at outdoor fairs and festivals, these racks often showcase canvases, photography, prints, and other artisan-crafted items. They're lightweight and assemble easily, so even a one-person team can put on a successful exhibition. With their practical, no-frills design, these wire grids blend into the background and let artwork shine. While pre-built configurations offer a variety of shapes and sizes to choose from, single pieces are also available to help you build your own modular setups.
Relying on just one type of public engagement leaves so many options on the table. Providing visitors with hands-on experiences is an excellent strategy for creating a lasting impression, but getting them to notice you in the first place is half the battle. Grab even more attention with the soft glow of LED-lit exhibition backdrops with custom printed graphics! Mixing visual flair and tangible product demos makes for a captivating interaction between you and expo-goers that will firmly plant your brand in their memory, putting you head and shoulders above the competition.