Exhibition Stands with Hook & Loop Receptive Material
---
Folding Panel Backgrounds and Pop-Up Displays with Hook-and-Loop Receptive Material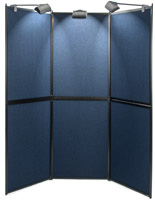 Are you on the hunt for the perfect trade show booth backdrop? Our exhibition stands with hook-and-loop receptive material are the perfect combination of flexibility and portability. With this special fabric, users are able to easily attach custom graphics, product samples, and other promotional materials to their display. Our exhibition stands are available in three different designs: folding panel displays, straight pop-up booths, and curved backdrops. Each poses a different style, but all have the same hook-and-loop material to make the presentation your own. Why purchase a booth that doesn't have the flexibility to create your own layout when you can buy one of our exhibition stands? Take charge of your exhibit and set yourself apart from the competition with one of our hook-and-loop receptive backdrops!
Why should I buy these portable displays?
Our exhibition stands give the user maximum control over their booth layout. The hook-and-loop receptive fabric offers the flexibility to position graphics, informative material, and other branding information anywhere across the surface of their display.
The lightweight design makes it easy for users to set up and break down the unit. There are no extra tools required for assembly. It only takes a few minutes for one person to put the entire display together. Each comes equipped with a carry bag or container for easy transportation to and from events. The hard-shell cases can even double as a presentation stand or an extra surface for demonstrations. For the frequent trade show goer - there's no reason not to invest in one of our portable booths!
Many of the pop-up and panel backdrops come with a customizable top header. Some folding panel displays can be fully personalized with graphics. Businesses can proudly showcase their brand or logo to passersby at any event. It's important for an organization to present the goods and services they have to offer, so why not do it with custom graphics? Gone is the worry that a company won't be recognizable at a large convention.
These portable backdrops are available in finishes of black, gray, red, and shades of blue. With the large variety of hues offered, users won't have to worry about finding the perfect color to complement other items in their presentation. Companies can choose to stand out with a bright shade of red or opt for a neutral black background and dress up their exhibit with added graphics and information.
To further highlight these pop-up fixtures, there are multiple units offered with clip-on lights. The additional lighting helps to focus the viewers' attention on your custom graphics, product samples, and other promotional merchandise.
These booths are constructed from high quality materials. This means they'll be able to withstand the wear-and-tear of trade shows and expo events. Exhibitors will always have peace of mind that their presentation will be professional, crisp, and have a positive impact on visitors and passersby.
Our portable backdrops are nothing without the added flair of hook-and-loop accessories! Choose from a variety of acrylic sign holders, brochure pockets, and poster frames to enhance your presentation with informative material and bright graphics. Mix and match items to create the perfect design with hook-and-loop receptive fabric. Let Displays2go help you craft the perfect trade show booth. Shop online today!