Gaming Chairs with Comfortable, Ergonomic Design
---
Computer Gaming Chairs with Ergonomic Designs for Lasting Comfort
Do your work, hobbies, or studies keep you sitting in front of a computer for hours at a time? These gaming chairs support good posture for at-home office workers, gamers, and students during extended sessions. Staying seated at a desk for prolonged stretches day-in and day-out will inevitably lead to discomfort and stiffness in the back, legs, neck, and shoulders — especially with sub-par seating. Our ergonomic gaming chairs prioritize both comfort and proper posture to prevent common computer-related injuries, aches, and pains. Many of us unwind from a long day of working at a desk by playing a few hours of PC games, which only extends the amount of time we spend sitting in an uncomfortable, unsupportive seat. Add up those long periods of poor posture and you've got a recipe for pain that can last for years and take time away from the things you love doing. These comfortable gaming chairs encourage proper sitting position for work, so you'll still be feeling fresh when it's time to play. Take a proactive approach to ergonomics at your desk and keep doing what you love.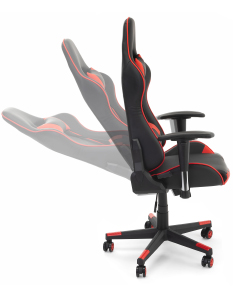 What features do these PC gaming chairs use to ensure comfort and good posture?
Tall back support — Most standard office seating comes up above the mid-back, but this leaves a lot of room for bad posture to creep in. With a full back support that comes up above the head, the neck and shoulders are fully supported and a healthy position is maintained.
Incremental back tilt adjustment — Being able to choose the best angle for the task at hand is crucial to long-term changes in postural habits. Starting at a straight 90 degrees for everyday mouse and keyboard work and adjusting downward all the way to a reclining position, these adjustable gamer chairs offer a variety of options for an equally varied set of uses.
Adjustable armrests — Depending on your desk height and the length of your arms, you might find that working or playing with a mouse and keyboard is uncomfortable because you're hovering or angling your wrists to reach. Computer chairs With adjustable armrests allow you to find the perfect height and angle with the push of a button.
Adjustable lumbar pillow — Office seating with lower back support is so often overlooked when it comes to features, yet this relatively simple addition solves a lot of common aches and pains that come from sitting down all day. Straps keep the lumbar pillow in place and allow you to move it up or down to fit the curvature of your spine just right.
Adjustability is key to any proper ergonomic seating. One-size-fits-all solutions often do more harm than good when it comes to correcting and maintaining good posture. Most office seating allows for overall height adjustment and not much else. Everyone's body is different, so having the option to make small changes in height and angle across the board can make all the difference for long-term comfort. Accounting for the length of your own arms, legs, and torso is one thing, but the particulars of the rest of your setup are another crucial factor. Pairing your ergonomic seating with an adjustable, curved edge desk that offers cable management can do wonders for both workflow and making sure you stay sitting up straight. Set your workstation or battle station up just the way you like it with home-office essentials from Displays2go.