Poster Frames - Wall Mounted Metal and Plastic Graphic Holders
Shop by Material
---
Shop by Loading-Style
---
Shop by Specialty
---
---
Picture Holders for Advertisements, Signage, and Personal Artwork - Browse by Size
Need a graphic holder to fit your style and budget? Our poster frames for wall use come in several shapes, sizes, and styles to promote a variety of business prints. Great for advertising, our selection of graphic holders features a straightforward design that accentuates your images. These wholesale wall mounted poster frames are sold with bulk pricing options for outfitting retail stores, restaurant chains, movie theaters, and other commercial settings. We offer thousands of mounts and stands at affordable prices to meet any company's promotional needs. Our large poster frames are made to provide maximum visibility for your advertisements and are ideal for calling attention to your brand.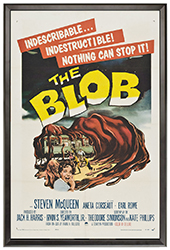 How can your business use these graphic displays?
Wall mounted poster frames are excellent for advertising in retail stores, both inside and out. Shops often use hanging signage to generate interest in new merchandise and the latest deals.
Our selection of movie print holders is ideal for outfitting cinemas and theaters with advertisements for upcoming films. We offer models for both 27x40 and 27x41 common sizes to accommodate any print. Each one comes with a clear plastic lens that protects bills from fingerprints, dust, and moisture for a professional appearance.
Restaurants use enclosures to feature their menu and specials with extra visibility. Bars and bistros can also exhibit artwork in these image holders to enhance their décor. Entice passersby by placing high-quality pictures of food and beverages outside your establishment. In addition, our wholesale pricing makes supplying restaurant chains and franchises more affordable.
Not just great for merchandising, these holders can feature information and advertisements in banks, doctor's offices, and service organizations. Travel agencies often show beautiful pictures of destinations around the world while financial institutions inform customers about loans and accounts they provide. Use large graphics and bold text to sell your services in any establishment.
Print holders aren't just for driving sales, they also make excellent wayfinding and informational signage. Both schools and offices use fixtures like these for conveying instructions and motivational images to create a healthy, productive atmosphere. They're an ideal way to advertise events like charities, bake sales, and fundraisers.
Our catalog of holders for pictures includes a variety of easy-to-use designs for quickly displaying your artwork or advertisement. Snap-open mounts are among the most convenient and sought after because they don't need to be taken down when removing and replacing images. This style is perfect for businesses that need to change their ads often, like movie theaters and retail stores. Simply roll back the edges and remove the clear lens to access your media. We also offer traditional rear-loading doors and slide-in designs as well as more decorative curved and illuminated options to complement your location.
What makes our print displays great for any business or commercial setting?
For companies on a budget, we offer a wide range of lower priced options. These discount fixtures are made of strong plastic and are available as wall mounts and tabletop stands.
Our print framing comes in a variety of materials and colors to match any décor. Some of our most popular models are made of sturdy aluminum and feature neutral silver and black finishes that go with any image. Plastic fixtures can feature a variety of colors in addition to clear acrylic that is designed to maximize visibility. We also sell units made of wood with natural shades such as cherry, mahogany, and oak.
We carry a vast number of displays for many media sizes. This includes 4x6 and 5x7 photos up to banners more than 7 feet long! Our most popular sizes are 24x36, 18x24, 11x17 in addition to the standard movie ad sizes of 27x40 and 27x41.
Looking for other graphics display options? We also offer floor standing print holders for stores that require more wall space for shelving. Our weatherproof outdoor graphics displays are great for retail outlets and other commercial environments. Use high impact advertisements to bring customers through the door. Shop online at Displays2go for quick shipping and low prices!