Oversized Poster Frames, Lightboxes, and Large Format Sign Holders
---
Large Format Poster Frames – Indoor and Outdoor Oversized Aluminum Sign Holders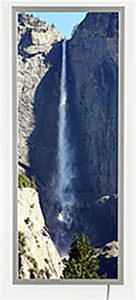 Are you looking for a better way to hang massive promotional graphics on the wall of commercial space, amusement parks, or corporate parkways? Our oversized poster frames can handle that extra-large piece of custom artwork that spans the length of a hotel reception desk, or the mural-sized graphic in your front lobby. These sign holders are constructed with anodized aluminum in a variety of designs intended to withstand use in high-traffic public places and through frequent artwork changes. Small signage tends to get lost in spacious venues like airports, athletic centers, and car dealerships, so "think big" when deciding what size prints to hang with our oversized poster frames. Our extra large wall sign holders for panoramic graphics provide maximum visibility, increasing brand awareness and the power behind your message. Another great way to use oversized poster frames is for wayfinding purposes in convention centers and hospitals to prevent foot traffic congestion in aisles and corridors.
Our extra large sign holders feature dimensions from 12" x 36" all the way up to 47" x 94" so even gigantic artwork can find a place to live in this collection. Do your brand advertisements justice by showcasing them in high-quality framing specifically designed for commercial use. Even smaller venues can benefit from large scale print ads. Travel agencies are a great example: these panoramic oversized poster frames are perfect for enticing people to buy a cruise or a trip to see the ruins in Rome! Wide sign holders are frequently displayed in movie theaters to promote the latest features and they enhance the décor in casual and upscale restaurants as well as many types of retail showrooms.
What elements should be considered when selecting big picture holders?
Our featured extra large poster frames come in a range of sizes for mounting on a wall in a variety of locations. We offer picture holders for big ads in 18" x 24"; 36" x 12", 36" x 24", and the popular 36" x 48", as well as 36" x 72". We have 40 x 13.5" and 40" x 60"; 45 x 21.5" and 45" x 27.5"; and our largest wall mounted frame measures 47" x 94". Check out the specifications for each model before making your selection and be sure to measure your space.
The orientation of your extra large poster frames is especially important. Panoramic sign holders are usually hung horizontally but sometimes they are used in vertical orientation. Photo collages and museum prints are look perfect in this type of framing. Occasionally the exhibitor may want to hang the display at an angle, or suspend it from the ceiling. Depending on the type of wall and the type of enclosure, mounting hardware can vary. Most of these models ship with the screws and anchors needed for setup. Clear, detailed directions are included for each unit to make things easy.
Oversize snap-style displays with a convex profile lend a classic beveled look to the décor. Some of these feature a locking design to keep graphics theft- and dust-free. Frameless plexiglass wide picture holders featuring aluminum standoffs are secured easily by magnets. Other big frames have swing-open technology, also enabling quick updates. Each of our picture holders for large prints has a PVC, polycarbonate or flexible non-reflective plastic lens to protect images from fading and dust.
Weatherproof aluminum sign frames are available for outdoor use, and they are 100 percent exterior rated to prevent the elements from ruining your and prints! A rubber gasket swinging door keeps treasured artwork safe from rain, sleet, and snow as well as tampering and theft with large outdoor a snap-open or swing-open designs that makes loading and updating easy. A durable polycarbonate lens cover stands up to the weather and anodized aluminum construction will not rust, no matter what the conditions are outside. These units lock to protect your investment and ship with an Allen key for quick and easy graphic updates.
Large format light box frames with LED lighting displays translucent prints beautifully on the wall of a restaurant, gymnasium, convention center, or theater. This illuminated signage for large-scale artwork comes with 2- or 3-chip LED technology for a brilliant laser cut diffusion pattern at the edges without hot and cold spots. Available in average LUX ranges of 5,000+, 4,000+, 3,000+, and 2,000+ this large scale framing uses less energy so you'll save on money. Each unit comes with a long power cord to make it easy for busy store managers to operate.
Mounting signage to the wall frees up floor space for foot traffic, display counters, and reception furniture. The scale of our big sign frames helps graphics stand out for an instant brand recognition boost! These huge format enclosures are an affordable way to make big statements. From our European-inspired wave-shaped wall frames to frameless print signage with standoffs for mounting photo collages in a studio or at home, we have the big displays for all your big ideas! We offer commercial sign holders for any industry and placement style. Shop Displays2go for everything you need to professionally present your advertisement graphics today, whether your business is promoting on the showroom floor, convention hall, or wall space!