Outdoor Brochure Holders | Weather Resistant Literature Boxes
---
Outdoor Literature Boxes for Tri-fold Leaflets or Pamphlets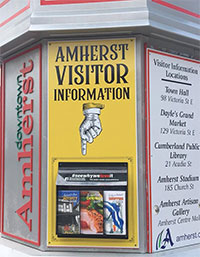 Are you looking to keep pamphlet or literature material safe from harsh weather? Outdoor brochure holders are designed to withstand the elements. Each outside wall box includes a lid that prevents moisture from damaging the printed materials inside. Real estate agencies, banks, and other organizations can now distribute important information. These document boxes also help companies market themselves without worrying about inclement weather. Our literature boxes provide every business with an inexpensive exterior advertising solution. Exterior document display boxes are effective for generating interest in a company. For example, flyer boxes are perfect for real estate agents looking to give prospective buyers more information. These clear plastic outdoor brochure holders can be placed outside a home near a for sale sign. This way, realtors won't miss a potential chance to close on a property. Placing business card racks outside of doctor's offices or dentists is another effective approach. Clients now are able to get information in a convenient way. You can always ensure business material is at the fingertips of your clients. When you need extra advertising, our waterproof flyer boxes provide the perfect solution.
What are the features of our weatherproof literature boxes?
Our waterproof outdoor brochure holders feature a protective lid that encloses important documents. This assures literature is always kept dry from rain, snow, or wind.
The enclosed design of the wall boxes keeps out dust and dirt that can damage business materials. The spring-loaded lids on the fixture help to create a seal to better protect your content each time it's opened.
Our exterior publication racks feature the option of wall mounting. The flyer boxes are versatile enough to be hung in convenient locations for individuals to access the materials inside
Some of our outside wall boxes are made with paneling that blocks out harmful sun rays. The frosted acrylic helps ensure the sun does not fade tri-fold leaflets, pamphlets, magazines, or catalogs. When most people think of "weatherproof", they think of protection from rain. Sun can be a large factor in damaging business materials mounted outdoors. Our weatherproof literature boxes will give you protection from the sun's rays as well.
Outside document boxes also contain suction cups for easy on-the-go advertising. These are perfect for places like car dealerships show rooms. Since the suction cups will adhere to any glass surface, the wall mounts can be placed on any type of window. This makes them perfect for offices or other commercial spaces in need of extra advertising.
What are the different models available for outside wall boxes?
Single Pocket: Ideal for one stack of tri-fold leaflets or pamphlets.
Multi-Pocket: Perfect for many magazines, pamphlets, or catalogs.
Business card holders: Always ensures your information is readily available.
Pocket with business cards: Promote yourself and your business at the same time with leaflets or pamphlets along with easily accessible business cards.
Fits catalogs, magazines, & pamphlets: Bigger fixtures ideal for larger business materials.
Businesses invest large amounts of money on advertising and merchandising. Pamphlets, flyers, and product catalogs are some important and effective materials used to promote companies. This is why it is so important that content has protection from the elements. Don't fall short when it comes to around the clock advertising. Glass mount document boxes help ensure your business' message is seen day in and day out. Wall magazine, pamphlet, or flyer racks are also effective for promoting larger forms of literature. With exterior pamphlet racks you can seize exponentially more opportunities for advertising. Print advertising is vital in certain areas like real estate, banks, hotels, and car dealerships. Tangible forms of marketing never go out of style. Print ads ensure your message stays with the customer, even after they leave. Our exterior display fixtures are bound to help enhance any company's advertising campaign.