Card Holders - For Retail Stores, POS, Restaurants & Banquets
Card Holders - Floorstanding and Countertop Fixtures for Business and Retail
Are you looking for card holders that won't take up extra space in your retail shop? These desk and counter accessories display whatever type of cards you have to offer! From cards to table displays, these display racks are designed to support all types. The number of memo clips and retail price tags available for purchase here are expansive. Along with the traditional spinning racks with wire shelves, we have tabletop showcases specifically designed for ! These card holders, also known as counter fixtures, deliver sales in any retail setting. It's easy to place a rotating display right next to the counter or along the high traffic paths in your shop to guarantee that the customers can't miss them. The note clips themselves are crafted from metal and plastic, or solid acrylic. All of our display tools are manufactured from a wide variety of materials in order to give your shop the look it needs. Wire shelves are ideal for a store with a more industrial design to it and feature black or white finishes to blend well with many different interior designs. The acrylic stands are perfect for retail countertops, able to support a great deal of product right at the customers' eye level. Rotating and spinning wire display racks allow customers to easily browse the entire selection of cards. Greeting card stands save a ton of space! Instead of spanning a whole row, these stands can hold over 80 items each on one column style display with a small footprint. Rack card holders are another option for distributing pamphlets & periodicals!

How can these card holders be used in various settings?
Grocery store pricing and memos
Retail sale and special advertisements
Wedding and banquet placecards
Countertop gift card displays
Drink & dessert menus for table tops
Why purchase storage and display racks from Displays2Go?
Many of our products feature same day shipping. Simply order the eligible products before 3PM EST and your purchase will go out that same evening.
Each product page in our e-catalogue is linked to our database, allowing us to keep you informed and constantly updated as to how many of each item we currently have in stock in our warehouses.
Our highly trained customer service staff is constantly standing by, waiting to help you out with your questions about products, shipping, and more.
We have some of the best prices for retail and commercial display goods and other storage supplies online, with many products on sale as well.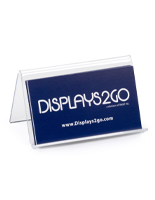 Each variety of card storage has its own unique features that make them a quality investment for industrial and retail stores. Many of the retail racks in this category are specially geared towards greeting cards, but there are also styles that are perfect for business cards. These card displays can sit right on top of your desk or counter so that people can easily see them. Pockets allow you to store multiple cards, then offer them to potential clients. The four (4) tier stands are ideally suited to companies who wish to offer many of their employees' cards to the public at once. We also feature message holders intended for outside use. This industrial card storage shows retail stock for corporate use outside a closed office building or on a job site for a construction company. Displays2Go manufactures sign frames with special holders for contact info as well. Designed to suit companies who leave info about themselves at various conferences, workshops, or in-store exhibits, booklet sign displays can be very effective advertisements. These sign showcases offer unique combinations of brochure, literature or sign stands. We craft the frames from transparent acrylic which allows the content to be viewed while inside the holder. We also carry singular business card displays that are perfect for keeping on a counter by a cash register or on a desktop at an office.
Countertop display racks can also be tailored to prepaid gift cards. These displays, like gift certificate stands, can have either acrylic pockets or hooks. The spinner models make great counter displays at bookstores or other retail locations as they can be placed right in view of customers in the checkout line. Our non-spinning models will allow you to add customized graphics to your display, enhancing the showcase while providing customers with additional information about your prepaid gift cards. Capable of holding up to 200 prepaid cards, the display contains either nine (9) or twelve (12) pockets.
We also have table tents and menu caddies available for purchase. These displays are perfect for quickly informing customers about menu changes, daily specials, ongoing deals, and much more. Table tents are designed to be used on tables at restaurants or cafes; however they can also be used on a countertop by merchandise in a retail store. Choose from holders featuring anywhere from two (2) to eight (8) panels that can showcase your menu items or restaurant specials. Some multi-panel card racks and flip chart menu holders even allow you to showcase up to ten (10) different double-sided cards at once.

Displays2go has been a top display manufacturer since 1974, specializing in acrylic displays. We've developed a product line of over 7000 products - retail, commercial, or office use. Some of our most popular items include, but are not limited to, acrylic frames, lecterns, display cases, and literature stands. Our on-site warehouse allows us to fill orders quickly so you do not have to wait long on your purchase. If you have any questions or comments, please don't hesitate to call our customer service center! During business hours they can be reached at 1.800.572.2194. Or, you can also reach them via the 'Live Chat' link on the left side of the page. Simply click on it to open up a direct instant message conversation with one of our service representatives.