Surface Pro X Floor and Countertop Mounts
---
Surface Pro X Floor and Countertop Mounts Maximize Advertisement Exposure and Provide Vital Employee Support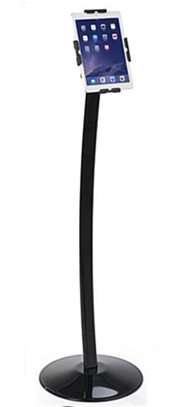 Are you looking for a better way to offer employees with the tools they need to better perform, and your customers with the valuable information they desire to make a well-informed purchase? Use our Surface Pro X floor and countertop mounts for versatile placement around showroom or sales floors, sharing promotional videos, digital catalogs, and interactive media with customers while they shop in a way that allows them to explore and learn in their own time. On the other hand, employees use our tablet stands as product reference guides, for inventory management, for scheduling, and as point of sale systems. Our Surface Pro X floor and countertop mounts find a home in many industries, including trade shows, restaurants, retail stores, and even home offices. We understand that you want to protect your investment, so many models are designed with locking mechanisms to prevent theft, tampering, or damage in public settings. Furthermore, most digital content is meant to be shared, so we have designed many of these Surface Pro X floor and countertop mounts with tilt and articulation to better serve your customers, reduce glare, and maximize visibility.
What are Commercial Digital Tablet Holders Most Often Used For?
Point of sale systems have evolved beyond traditional cash registers and drawers. While cash payments still occur, modern transactions are completed via a credit card ship reader or some form of online payment application. This is especially true for pop-up vendors such as food trucks, flea marketers, or boutiques who may not carry cash to avoid the liability and only accept card payments. Our Surface Pro X floor and countertop mounts provide a much needed point of sale system for these types of businesses.
Successful marketing and promotional campaigns reach customers in places that they don't expect. Use a floor-standing tablet holder alongside departmental sales to entice your patrons to explore a new product or service without the pressure of a sales representative hovering over them. Customers who feel comfortable in their own space will spend more time with the product and will be more likely to reach out with valuable questions, and interest, at the ready.
Many businesses use out Surface Pro X floor and countertop mounts to manage staff, order tickets, and general workflow. Countertop tablets are often used in the back offices to manage timecards, scheduling, or HR issues while the front-end tends to use these devices to handle order tickets and payments. Incorporating tablets into your workflow helps reduce the risk of mistakes by providing tools for clear communication.
Improve the quality of your customer-facing marketing campaigns and employee-utilized tools to not only improve workflow, but connect with your guests in ways they will remember most. Protect your investment by taking advantage of locking tablet holders, and share engaging content more easily with articulating mounts. Whether you are on-the-go during a busy trade show season, or manage a long-established boutique, these Surface Pro X mounts are a must-have tool to improve the effectiveness of your campaigns. Displays2go provides a wide selection of digital tablet holders suited for any brand, make, or model. Add any of these products to your toolkit to help create memorable experiences for your customers.