Shop These Picture & Poster Frames By Size
Shop for Picture or "Poster Frame Sizes"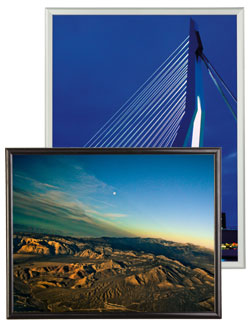 These poster frame sizes display favorite photos of family memories, artwork, movie posters, or advertisements. Buy these image holders in various colors and styles. Poster size frames are perfect for larger format prints. Framing photos or other signage is a great way to draw attention to all the messages or images you'd like to be seen. These "poster frame sizes" are offered here in a wide variety of colors and material compositions. Choose from a wide assortment of print hangers and graphic displays to decorate your business. There are poster size frames that will suit every need or décor theme. What are some of the more popular models? Through extensive research, the most highly sought-after poster frame size options are determined to be 11 x 17, 16 x 24, 18 x 24, 20 x 30, 22 x 28, 24 x 24, 24 x 36, and 40 x 60. Above, you can find a large selection with all kinds of dimensions, both custom and standard.
Photograph displays in sizes under 8" x 10" are ideal for memorable photos. Display memories of vacations, family reunions, a day trip, children, wedding moments, pets, and much more. Many of these smaller picture frame sizes are extremely versatile, being able to be placed on a tabletop or wall-mounted. The smaller frames are typically used to showcase everyday photos. Whether a color, black & white, or sepia-toned photograph, there are models to perfectly complement a favorite photograph. In addition; this wide selection of tabletop frame dimensions will also complement the décor of any room.
Larger poster frames, like poster displays, or signage framing displays, are perfect for posters or large signage. These photo frames can hold a family portrait. Large displays, like 11 x 14, 11 x 17, 16 x 20 and 16 x 24 are common sizes for portraits. Instead of buying an overly-expensive photo frame from your photographer, shop online here to find a reasonably priced, yet still very stylish, large-format photo frame. Sizable photo frames are also great for retail businesses. We offer many colors and styles of large photo frames, including lockable cases with swing-open doors to provide quick and easy sign or photo changes.
The snap frames featured here are excellent picture frames for a retail location. Snap frames provide a very quick means of changing out a sign or other graphics. Mount a snap poster frame to the wall and never have to take it down ever again! To change out graphics, simply snap open all four sides of the framing and insert a new photograph or image. Snap frames are available in many different finishes and styles. Almost all of these photo snap frames include a protective PVC (or other type of plastic) lens to protect your photo or other image. Many of these lenses even block out UV rays, so your images stay bright, even if they are in direct sunlight!
The photo frames, also known as picture holders available here are great framing options for a home, business, corporate office, or foodservice establishment. Photo frames are everywhere and are sold in all kinds of styles. Some of the designs that are harder to find include 40 x 60 (or 60 x 40) and 24 x 24. Most of our options, like the 22x28, allow for use in either direction, that is, vertical or horizontal. There are even 20 x 30 displays. You can find some sort of framing in almost any location you enter and we offer lower prices as well as better quality options. Why not find an alternative to the common Trendsetter models from other dealers while paying much less at Displays2Go? This is truly one of the widest selections available from the convenience of your home, and some of the best prices available. Other categories have additional options, like DIY posting frames that allow for users to print and install custom signage very quickly. DIY systems are a great alternative to ready-made Trendsetter designs and other models from Michaels, Target, and Wal-Mart. We are a local company with a real staff that stocks most every picture holder right here in one of the three HUGE warehouses. This way, lead times are kept low. In addition, many orders ship same day if placed before 3PM EST. And, we own all of the warehouse space, so there is no additional cost added to products to help pay for leasing or renting fees. Buying online with Displays2Go is a smart decision, start shopping today!