Posted on 18, September, 2015
Last Modified on 28, January, 2021
Shop Products from This Guide
Though setting up a buffet may sound easy enough, there are a lot of things to consider if you're looking to make an impression at a dinner party or corporate reception. Placing plates and food dishes willy-nilly on a table is just not going to cut it. Besides simply making the buffet look professional and elegant, you should also vary dish heights with risers and pay extra attention to the flow of the buffet. Check out our ultimate guide to buffet setups and displays, then use this expert advice to pull off a buffet like none other!
Tables & Linens
Start with the foundation of your buffet - the table! You can cover any unsightly tabletops or ugly legs using banquet linens, so don't worry if your table has seen better days. We recommend using skirting to entirely cover the buffet table, especially if you're in a professional environment. The end result will look amazing, so don't let the thought of using the skirting intimidate you. In just a few simple steps, you can easily replicate the look!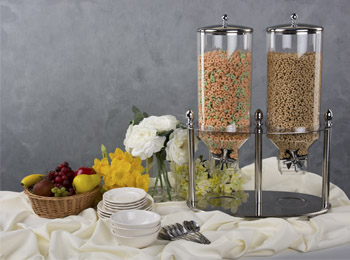 How to 'Fluff':
Fluffing in step 5 above means taking a few linen toppers (around 90" x 90") and scrunching or wrinkling them up on the top of the buffet table. When you add food displays or plates to the buffet, they won't appear to be floating aimlessly in space - they'll sit cradled in their own little linen nest! In all my years working at country clubs, this was by far my favorite look for a buffet table. It doesn't mean you can't add other decorations or design elements to the buffet, but fluffing is a great way to start adding dimension to your catering presentation.
Buffet Risers
Adding varying heights to a full buffet will make it feel less crowded and overwhelming to event guests when stocked with food. The varying heights also make the display more aesthetically interesting. There's a lot out there in the way of buffet risers, so you'll have plenty of choices!
Boxes & crates
Overturned bowls & dishes
Iron racks
Cake pedestals
Tiered acrylic risers
Acrylic boxes

Wrought iron racks designed specifically for holding dishes and platters are always a convenient option. There are also metal food risers with nice flat tops for holding dishes of many sizes. These nice looking risers that are actually designed for buffets are great, but if you don't have access to these kinds of catering displays, don't worry. We have some hacks for you.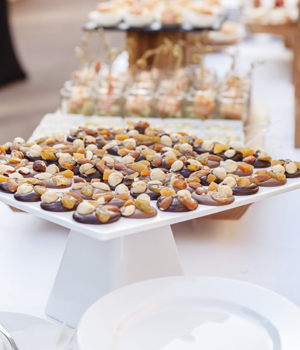 Remember the fluffed tablecloth technique I recommended? It turns out this layer is also perfect for hiding not-so-conventional buffet risers. Just grab an old crate or box from your basement and stick it right under the fluffed tablecloth as a quick riser. Then, smooth the cloth out over the top of the crate, and it will instantly look really polished and professional. No one will know what's really hiding under there!
After you've chosen your risers, conventional or not so conventional, just add platters and dishes on top and you're well on your way to an awesome-looking custom display!
Buffet Flow
Position plates, cutlery, dishes, and chafers in an order that makes sense for guests as they move through the buffet line. For example, grouping similar foods together can be helpful as the diners choose what to serve themselves. It's also a good idea to place silverware at the end of the table, instead of at the beginning near the plates, so guests won't have to juggle it as they attempt to serve themselves. Order your buffet like this for optimal flow: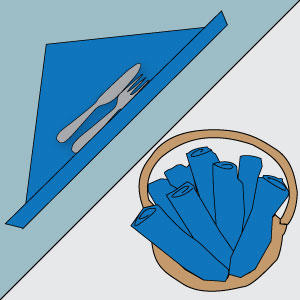 Plates
Rolls/Bread
Salads
Other Cold Dishes
Warm Dishes
Desserts (if you don't have a separate dessert buffet!)
Cutlery & Napkins
When you begin to assemble your own catering display, just remember these 3 essential aspects: table decoration, presentation height, and serving flow! If you concentrate on these tried and true buffet decoration ideas, the end result is sure to look great!