Posted on 10, March, 2015
Last Modified on 09, March, 2022
Shop Products from This Guide
The top concern for companies designing new business cards is that their contact information will look professional and make a lasting impression on potential clients. But what does that mean exactly? "Professional" is a bit subjective, especially because different businesses have different goals. While one company may want to create a very straightforward business card, another might want to use comedy or shock value to grab attention. In this article, we'll break down what it means to design a professional business card and illustrate some concrete tips anyone can use.
Step 1: Determining Your Goal
The first step in creating a successful business card is determining your company's ultimate goal. Whether you just need business cards to detail a little bit of contact information or you sell commodities and rely heavily on word-of-mouth referrals, you must establish a theme that fits your industry or area of expertise. For example, a pet store may want to use fun graphics and pun-filled language to entice their customers but a national financial institution will likely leave out the jokes and opt for a more serious, uniform approach. Once you have established a theme that aligns with your company's mission, you are ready to move on to the next step.
Step 2: Understanding Templates & Print Areas
When designing the actual business card, it's always a good idea to take a look at some templates. Not only will templates serve as a springboard for inspiration, but they will also help you understand the dimensions of the card and how the design space can be used. The web has tons of great resources, including top design lists and detailed size diagrams. Business cards measure 3.5" wide by 2" tall. Vertically oriented cards (2" wide by 3.5" tall) are becoming more popular as well. Some businesses even feature horizontal formatting one side and vertical on the other. Either way, most templates, especially those available through online printing companies, include a safe area and a bleed area.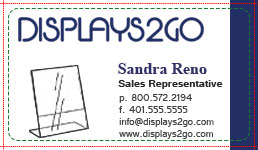 The safe area is your workspace, so you'll want to keep all graphics and text inside this region. You'll want to make sure the text is not placed too close to the edge of the safe area as well.
The bleed area is the space that will be trimmed off when the cards are cut. You may not think the bleed area is important since it will be cut off, but you will want to ensure that any background colors and graphics are represented here. Otherwise, you could have blank card stock along the edges after trimming. This is especially important if your cards will include background colors other than white. Adding your own border can also be problematic because it may not be proportional once the card is trimmed.
Step 3: Leveraging Design Elements
Now that you have an idea of the space you'll be working in, let's take a look at some of the design elements:
Font is one of the biggest considerations to make because you'll want to ensure that all your information is legible. It's generally a good idea to keep the font size 8 pt. or above. Smaller text is hard to read. As people age, they often require reading glasses so why not save them the trouble? Choosing the right font face is also extremely important. Avoid overly stylized fonts, like script, as they can be hard to read as well. Using script fonts for logos is certainly acceptable. Just be sure the logo is big enough to show detail.
Not only is it important to pick legible font faces and sizes, but the spacing is also key when designing your business card. Make sure to add enough space in between your text and graphics, so that all the information is as clear as possible. Proper spacing is especially imperative if you are having a printing company produce the cards for you because there are usually variances between different printers.
Color selection typically depends on your company's logo or existing color scheme. It's always a good idea to include your logo on your business card, especially if it is well known and easily recognized. But including the logo can be problematic if it was not designed using a printable color mode. The most common color modes are RGB and CMYK. RGB stands for Red-Green-Blue and is the color mode used for computer screens, electronic displays, and monitors. While RGB has a wide range of colors and is frequently used for websites and software, it is not ideal for printing. Part of the problem with RGB is that computer monitors can vary drastically when representing the same colors. Printing on real paper is done with CMYK, or Cyan-Magenta-Yellow-Black mode, which is why your business card design should be created using CMYK. If your logo or template was created using RGB, convert it to CMYK. Most photo manipulation software of today, including Adobe Photoshop, supports RGB to CMYK conversion.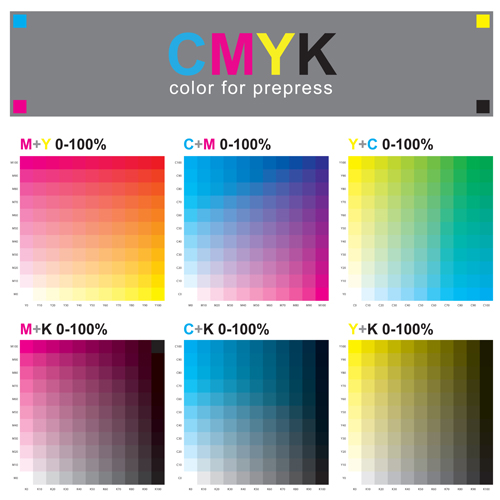 Step 4: Selecting Your Information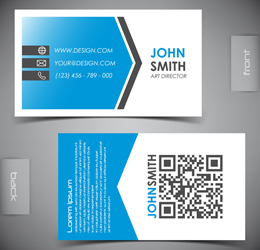 Select the information you will be displaying carefully. Be sure to include all pertinent details but try not to overwhelm the reader. Phone and fax numbers, email addresses, names, titles, and logos are all great pieces of information to include. Keep in mind that you can also use your business card as an opportunity to advertise other channels, like your website. There are even QR code generators that create a graphic that leads directly to your website upon scanning.
Step 5: Choosing the Proper Printing Material
Whether you opt to design your own business card with a personal computer and some perforated cardstock or have a professional company do it, you will want to use vector images and scalable text. Standard image formats, like PNGs or JPEGs, tend to lose detail when printed, so save the design as a vector-based PDF for the best results. If you're wondering about the quality of a printing business' work, ask to see their business cards. If they do a great job on their own cards, you can bet they'll do good work for yours too! Speaking of quality, make sure you select the cardstock that is best for your business' image. Thinner cardstock is generally cheaper but can be viewed as less professional whereas thicker material usually costs more but exudes a certain level of professionalism. However, there is an upside to economy cardstock. Business card holders can accommodate more thin cards than thick ones!
Step 6: Displaying Your Cards Professionally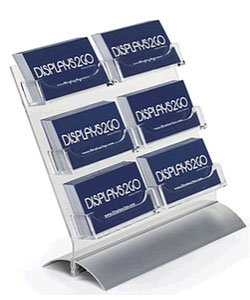 Most importantly, (at least from our perspective) get the right business card dispenser or compact case to distribute your contact information. We carry a full line of business card holders in desktop, wall mount, single card, multi-card, wood, acrylic, metal, and other designs. We even offer outdoor dispensers that attach to buildings and car windows, so you can be sure that potential customers see your important contact information.