Posted on 12, August, 2015
Last Modified on 13, August, 2015
Shop Products from This Guide
Who would have thought so many different types of sidewalk signs exist? From weighted bases to write-on boards, we're here to help you navigate the in's and out's of your sign display.
Design
1. A-Frame: These A-shaped sidewalk signs come in a variety of materials, colors, and sizes. Their folding design is great for portability and the slide-in style signage is easy to change out.
Benefits:
Folding & Portable
Durable
Quick Sign Changes
Double-Sided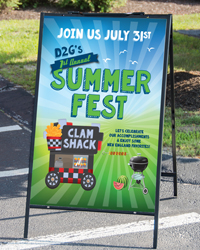 2. T-Base: These double-sided pavement signs feature a wide, sturdy base in the shape of a "T". Springs support the sign frame and have limited flexibility to ensure the display stays upright and won't tip over in the wind. Non-spring models are also available.
Benefits:
Spring Loaded - both wind resistant & attention getting
Weighed
Double-Sided
PVC Lens - protects graphics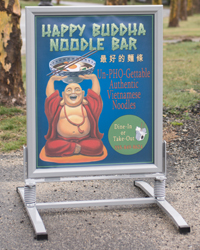 3. Swinging: This style of display holds graphics from the top only, allowing the rest of the sign to sway in the wind! Great for outdoor use, this sandwich board design is sure to get your customers' attention!
Benefits:
Wind Resistant
Attention Grabbing
Weighted Base
Double-Sided
4. Weighted Base: Don't let your store's signage blow away in the wind! Choose a sidewalk sign with a weighted base to make sure your display will stay put!
Benefits:
Prevents Damage & Movement in the Wind
Deters Theft
Safe - will not fall on customers!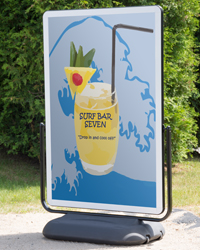 5. Portable: Going somewhere? These popular portable sandwich board signs include built-in wheels, handles, or come equipped with trolleys for easy transport. Moving your store's signage shouldn't be a struggle!
Benefits:
Easy to Bring Inside at Night
Lower Risk of Injury
Great for Trade Shows & Travel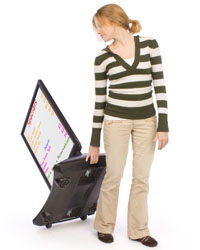 Message
1. Standard Poster Frame: These sidewalk signs hold and display posters in an upright, stable position, making them easy to spot. Try a snap frame style for quick sign changes or a slide-in style holder for displaying coroplast boards.
Benefits:
Available in Many Sizes & Styles
Easy to Use
Fast Signage Update
Works with Most Common Poster Types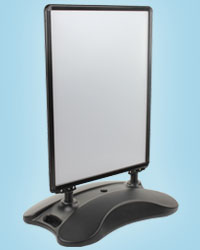 2. Write-on: Great for restaurants or stores with frequently changing offerings, write-on signs are 100% customizable! Use with traditional chalk or neon wet erase markers to make a statement!
Benefits:
Dry Erase, Wet Erase & Chalk Compatible
Reusable - easy to clean with a wet cloth
Customizable
Colorful & Eye-Catching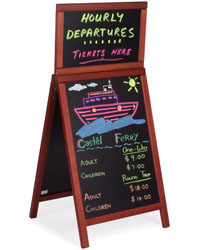 3. Message & Letter Boards: This style is great for those with changing signage needs! Switch up messages easily without having to print new graphics!
Benefits:
Versatile - great for a variety of industries
Customizable
Double-Sided
Letter Kits Included
Which style of sidewalk sign will you choose?