Posted on 14, October, 2015
Last Modified on 12, September, 2023
Are pamphlets and brochures the same thing? While the two are similar in many ways, there are a handful of differences between the two that you should know before designing one for your business or next event. The main difference is in content. Namely, pamphlets are designed for non-commercial use and are generally considered an informal leaflet covering one subject. On the other hand, brochures are often used for marketing and advertising purposes in business environments and feature a wealth of product or service information.
As far as design goes, the two might be similar in some cases, but pamphlets are traditionally one page printed and folded into a tri-fold design. This means that they do not typically need any binding or staples. Short brochures may use a tri-fold design as well, but more often, brochures are multi-page documents with binding that can present more like a booklet.
---
Pamphlets vs. Brochures
Pamphlets
Brochures
Uses

Community organization
Civic or cultural issues
Political campaigning

Sales
Advertising
Customer acquisition

Content

Informationial
Non-commercial
Single-subject focus

Product or service descriptions
Pricing and scheduling information
Broader or more varied focus

Format

Fewer pages
Text-heavy
Often a single folded sheet

Multiple pages
Image-heavy
Often stapled or bound like a booklet
---
What is a Brochure?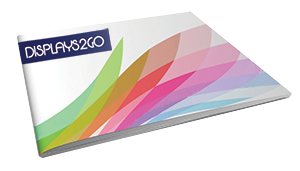 A brochure is a small take-away magazine or booklet that highlights a companies key products or services and are used primarily for advertising. This marketing tool is either presented as a single page that has been folded to create sections or more commonly as a bound multi-page booklet. A key difference here is that brochures are able to cover a multitude of subjects and generally consist of pictures accompanied by supporting text. This form of printed media is used to inform patrons of specific product lines or to educate existing customers on the features of a recent purchase.
What is a Pamphlet?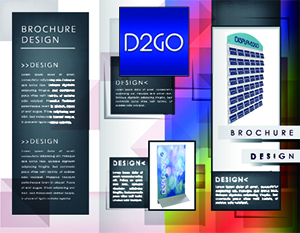 A pamphlet is a small, unbound single subject hand-out that provides less, but more focused information than a brochure. Also known as leaflets, this print media can be printed on one or both sides, and are typically folded into multiple sections. This piece of promotional media aims to inform readers of a specific event or service and intends to spread awareness more so than to direct sell. Pamphlets are most commonly used to share civic and cultural issues, or to educate the reader about a particular topic.
Flyers, Rack Cards, and Magazines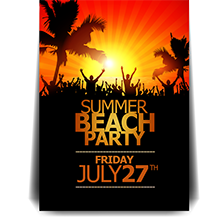 Brochures and pamphlets aren't the only useful printed mediums for business-related advertisement. Some single-paged publications include rack cards and flyers while multi-page options include magazines.
Flyers are a one-sided poster or handout that are most commonly used to promote an event such as a grand opening, concert, or fair. Since passersby will only see these prints at a glance, they are more effective at providing quick, easy to absorb, information rather than a product pitch.
Rack cards, while similar to flyers, are usually about 4" x 9" and can be just as effective as a full sized brochure. Use a rack card to promote local events, individual products, or services in one easily digestible bit of information. Rack cards have limited space, therefore should only present the most vital information and, given their size, are more likely to be taken by customers to serve as a reminder.
Magazines are multi-page publications that cover an array of different industry-specific topics and articles coupled with related images and illustrations. Many magazines feature products, advertisements, and testimonials. Use this type of media to keep guest up-to-date with industry related news and create a better informed customer base.
The Right Tools for Advertising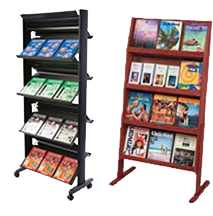 While most of these takeaway options can simply be handed to your customer, it is essential to organize your information with a booklet rack for printed marketing materials. Browse a selection of brochure holders to find the perfect fixture to complement your business' particular needs. Our extensive line of literature displays benefit digitally printed publications of many types and sizes. Additional features are available such as sign headers, adjustable pocket dividers, multi-tier pockets, rolling wheels, and rotating assemblies.