Picture Frames Wholesale Offered In Various Price Ranges!
Wholesale Frames for Family Pictures & Photos Feature Bulk Discounts
Picture frames wholesale are shipped by the thousands on a daily basis here. Many of the quality photo holders offered here are available at discount prices. We also buy and sell many of our frames in bulk. From large poster frames to desktop photo frames, you can stock up on any size frame you need in large volumes.
A common question often asked is, "Why are these wholesale picture frames so cheap?" Most times the cost is kept low due to the materials that are used to make these products, such as plastic and aluminum. There are picture frames wholesale in a wide array of sizes, styles and designs available in this product line. Choose from wood, acrylic, aluminum or plastic framing. There is a huge selection of picture frames wholesale for wall mounting as well as desktop displays. No matter the budget or taste there are hundreds of quality print holders with cheap prices ready for immediate shipment. Buying picture frames in bulk also results in deeper discounts!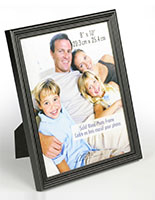 There is a large selection of smaller sized picture frames wholesale that can be mounted on a wall or placed on a table top. These photo frames come in various sizes such as 4"x6", 5"x7" & 8"x10". Some of these picture frames wholesale are sold in sets of different colors or sets of different sizes. These sets ensure that all of the frames match one another perfectly. These wood picture frames wholesale are for sale at cheap prices; some starting as low as $2.00 per frame. The wood photo holders sold here come in many stains including; oak, cherry, walnut and mahogany. Additionally there are picture frames wholesale painted in nearly every color of the rainbow. Use these wood print frames to hold a family portrait or a picture of a famous landmark. Many of the wood picture frames wholesale offered here have both an easel back, and mounting hooks that allow them to be mounted on a wall or placed on a table.
Metal print frames are popular alternatives to traditional wood frames. These metal wholesale picture frames often come in a black or silver finish. The black and silver shades are neutral, therefore blending with any decor or style. These wholesale picture frames come with a glass panel to protect the photograph from any dust or debris. One of the many metal print holders offered is the decorative metal frame with faux pearl accents. These metal frames will add a touch of class to a wedding or anniversary image. Give these decorative metal framing units as a gift or wedding favor. There are also wholesale metal frames with scrolls, butterfly accents, and antique styling. Any of these picture holders would be suitable for gift giving. For commercial shoppers there are large wholesale picture frames suitable for large advertisements or graphics. These ready-made print displays mount on a wall and allow for easy change outs. Once the metal snap frame is mounted on the wall, simply snap open all four sides, remove the lens and graphic, replace with the new print and lens, and snap all four sides shut!
For the business operating on a tight budget, and can't allocate a lot of money for framing; these discount frames will meet the need without breaking the bank. Large fast food chains and department stores use these print displays to exhibit informative signage or upcoming sales events. These discount plastic photo holders feature a slim frame that slides together, along with a cardboard or plastic backer and a flexible lens. These quality ready-made frames are offered at cheap prices, and require some minimal assembly prior to use.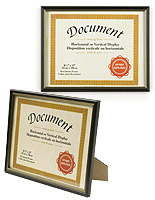 In addition to the many high quality discount framing products mentioned here, there are many more wholesale frame options available, such as outdoor holders, ceiling mounts, and glass hung frames. A popular alternative to traditional framing are acrylic frames. Acrylic is completely clear, and doesn't distract from the displayed image or print. There are many sizes and styles of great quality acrylic sign holders to select from. Acrylic is one of the many specialties here. If there is a photo holder size or style that isn't available here, simply contact one of the call center representatives and they will explain the process of requesting a custom acrylic order. For a custom order there are some quantity order requirements, but as long as they are met, there is rarely a job that is considered impossible.
Often times, doctors, lawyers and other professionals like to display their various degrees and other certificates on the wall in their office. There is a sizable selection of certificate and high quality document frames available here. The standard size for these ready-made frames is 8.5"x11". There are wholesale picture frames in wood, metal, acrylic and plastic; something for every taste or décor. As an added bonus all of these discount ready-made holders can be either hung on the wall or placed on a desk or table.
Can these ready-made photo frames be drop-shipped to different locations?
If these ready-made frames are being ordered for multiple store locations, simply send us a spreadsheet with all of the addresses, and we'll do the rest.
Special pack outs can be done as well, or if there are inserts that need to go with each order - not a problem.
Contact a call center staff member for complete details, or any other concerns.
In addition to the ready-made quality photo holders shown on this page, there is an even larger selection of display products, and retail marketing displays to choose from. Choose from ready-made poster holders, floor standing sign displays, light boxes and much more.
Doing business for over 40 years, this website is constantly growing, and evolving with the times. Most orders for in-stock photo holder merchandise ship same day, when placed prior to 3PM EST. For all other orders, shipping is completed the next business day, or within the designated lead time where applicable. Orders can be placed 24 hours a day on this secure website, or if preferred; contact a staff member to assist with placing orders. Additionally, feel free to contact a specialist on the live chat feature. There are several trained staff members waiting to chat with customers in regards to product quality questions, discount pricing and shipping. Available Monday - Friday
8am - 8pm Eastern Time US .