Posted on 15, April, 2015
Last Modified on 27, February, 2023
Shop Products from This Article
Let's face it, no one likes to wait. So why is it that so many businesses don't do all they can to make their customers' wait more tolerable? While creating a half-decent waiting experience might not seem integral to your business model, keeping clients comfortable and entertained is extremely important to retention regardless of what services or goods you offer. This article gives some pointers on how to create a better waiting experience, so your clients will always want to come back.
Furniture Selection & Comfort
One of the first things any customer or guest will notice upon entering your lobby is the furniture. As people stroll in, they'll be looking a comfortable seat to plop down in so don't deprive them. Rather than opting for rickety wooden chairs that may save you money in the short term, invest in some quality seats with enough padding to keep clients comfortable for the duration of the wait. Although benches are commonly perceived as a functional alternative to individual chairs, most people really enjoy their personal space especially if they will be waiting a while. To afford clients the personal room that they need while they prepare for a meeting or appointment, use an arrangement of reception chairs with armrests.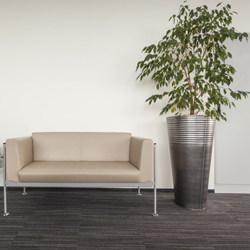 Other types of furniture can help improve the waiting experience for clients as well. Most lobbies and reception areas put out periodicals, like magazines or newspapers, to keep their customers entertained. Consider adding a coffee table, shelving, a wall hanging rack, or even a floor-standing holder to your waiting area, so all reading materials are kept organized and accessible. When selecting magazines, opt for a wide variety and make sure the issues are current. If you have pamphlets or other publications that explain your goods and services, use a literature dispenser so customers can give these materials a read before they are helped. You may even answer some of their questions before they have to ask.
Cleanliness and organization are crucial to keeping customers happy while they wait. Waiting takes time and the more time customers spend waiting around, the more likely it is that garbage will start to pile up. Keep trash cans and recycling bins nearby the reception area to encourage people to clean up after themselves. You'll also want to make sure to dust, sweep, and disinfect the room on a regular basis especially in healthcare settings.
Mood & Atmosphere
Another important aspect to consider when designing a waiting room is the mood. Businesses should always be thinking about the full experience their customers receive. Creating an atmosphere that aligns with your business' goals and industry will ensure that the client experience is uniform. For example if you operate a 5-star hotel, your waiting area will likely be luxurious with accent lighting and elegant furniture.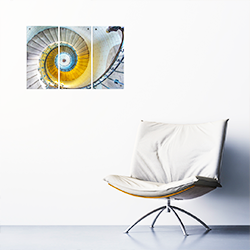 Companies and offices usually want to create a calm, soothing atmosphere that keeps everyone in their comfort zone. If you have windows, don't just leave the blinds closed. Open them up and let in some natural light. Fish tanks are fun for all ages. Live plants that do not cause allergies are perfect for lobbies. Scenic paintings and wall art will also add a little serenity to any busy waiting room. Consider the effects these types of fixtures will have on each customer's disposition and pick the items that best suit your clientele.
It might be wise to set some ground rules and post them around your foyer to help alleviate some of the common problems you experience. While most people have a pretty good understanding of waiting room etiquette, not everyone abides by it. Kids can be rambunctious at times, but for me personally, nothing is more disruptive than a loud phone talker. Now that so many people carry a mobile phone with them wherever they go, it is no surprise this is a frequent problem. Consider adding a convenient incentive for guests to put down their phone by including an accessible charging station in your lobby.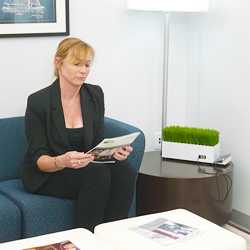 Another way to set the mood and discourage cell phone use is with media, such as music or television. Many businesses put on a local news station or top 40 radio to provide a little background noise. You'll want to pick the right kind of music or broadcasting for your setting. Although muzak (generic elevator music) might seem like a safe bet, many people have grown to hate its overuse. For this reason, you might want to consider something other than lounge piano or smooth jazz. Companies and offices can also tailor the content to their specific area of expertise. A doctor's office might show health-related programming like episodes of "The Doctors", while a car dealership might have the latest "Top Gear" playing. Think about how you can leverage this type of content for your business. The key is making sure that the volume is loud enough to be heard, but not so loud that it is disruptive to those not watching or listening to the media.
Friendly Staff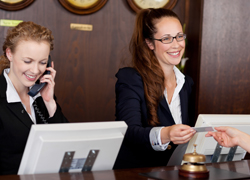 Even the best atmosphere, most comfortable furniture, and engaging entertainment will not make up for bad customer service. When serving customers in a waiting room setting, you will want to make sure that your staff is happy and excited to be there. All the fancy fixtures and atmosphere in the world will not have the same effect as a genuine smiling face!