Cafe Size Tables with Modern Styling in Low and Pub Heights
---
Café Tables in Short and Tall Sizes
What is the best furniture for entertaining guests who will be doing a lot of mingling in a bar or restaurant setting? Our cafe size tables are available in conventional and pub heights to optimize socializing at an array of events. With a small footprint that frees up floor space, these bistro tabletop solutions encourage small group conversations in tight spaces seated or standing. Two or more patrons can gather around these café size tables for drinks, sharing apps, or talking shop. What's more, this pub furniture instantly adds modern style to any décor!
Most of the pub furniture feature in this category comes with round and square surfaces and chrome bases. We have folding options with a pneumatic lift design to enable ergonomic adjustments. Our new cube chairs with LED lighting literally glow in the dark, adding modern drama and a little bit of fun to any setting. Think these won't wear well? Plastic ABS construction keeps this fun illuminated furniture well protected - even outside!
Each of these cafe size tables is portable thanks to their lightweight construction materials and minimalist design. Catering staff will find it easy to cart this furniture to and from weddings and networking events. Whether you're decorating a restaurant bar, or setting up an outdoor patio for the summer, the small footprint of our cafe size tables make it easy to create a social environment where people have the flexibility to be stationary or to move around.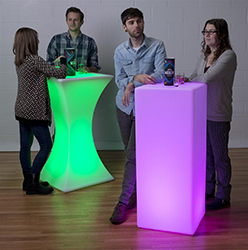 What are the different bistro furniture styles in this line?
The most common design for cafe size tables has a light laminate round or square top measuring one inch thick. Available in two sizes (30"d x 42.25"h or 36"d x 29.5"h), with a plywood wood laminate top and chrome base, both designs invite patrons to sit down and enjoy drinks and apps, or for taller models a larger group can gather for standing conversations.
Another popular design features a square steel and MDF top with a chrome plated base and a height-adjustable pneumatic lift. Sized 24" with a height range that adjusts from 27.8" to 36"h, this charming tabletop fixture is durable enough to use outside. The hydraulic control is on the side so it can be lifted with ease to highboy height. At just 22 lbs., this table is also easy to carry inside when the day is done.
Another great option is our square folding table with compact storage capability. The 27.5"w x 29"h furniture features a laminate top that resists scratches. A brushed steel "leg" and a stylish cross base make this minimalist tabletop a great addition to any cafe or bar setting. This tabletop fixture can be flipped and stacked in a closet until it's ready to be used again.
In addition to these popular styles, we're really excited about our new LED illuminated cube tables. Not only do they come in short and tall sizes, but they enhance any setting with neon color for a decidedly modern twist on hanging out and socializing with friends! Featuring a plastic, water-resistant design, this bistro furniture uses light to transform the frosted white finish into any one of 16 different color schemes. A rechargeable lithium ion battery keeps the fun going for 10 and 12 hours on just one charge - that ensures it will last all night. Not only will these tabletops flash with vibrant colors, but best of all this furniture is water-resistant.
Paired with ABS plastic construction it has rubber plugs in each charging port to prevent moisture from getting in. Adjust the speed, colors, and light patterns with the remote control. Make the colors glow, flash, or dim from your chair! Sizes include 20" and a 24" cubes. This bistro furniture is easy to carry - it weighs just 22 lbs.This LED bar furniture for outdoor patios can be programmed to flash quickly or glow slowly. A rechargeable battery keeps the momentum going all night! Check out our water resistant tables in hourglass, rectangle, and cube shapes and visit our larger website for matching chairs in short and pub sizes, or buy the furniture in sets.
Outdoor restaurant patio furniture doesn't have to be drab -- check out our full roster of great looking faux-wood tables for restaurants and bistros. Visit Displays2go for bar chairs and highboys to match our awesome pub and bistro fixtures. Our plastic pub-style cubes with LED lighting will be the focal point of an event, whether you're in a tiki bar setting at your favorite watering hole, or enjoying a networking mingle.