Parking Lot Supplies for Directing Traffic and Safeguarding Pedestrians
---
Provide Effective Parking Lot Management with Safety Supplies and Signage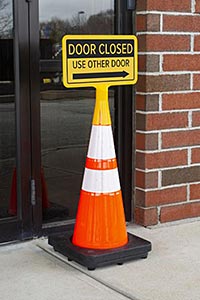 Are you looking for car park equipment to better supervise the daily goings-on? Parking lot supplies help to direct traffic and maintain safe conditions for pedestrians. Our offerings include portable signs, cones, and equipment for crowd control. Whether intended to be used for straightforward maintenance or the new social distancing directives, these parking lot supplies offer the tools you need at competitive prices. Your facility needs to be compliant, especially when it comes to the needs and safety of students, visitors, or patients. Our parking lot supplies offer affordable solutions for safety and protection!
What kinds of car park equipment do we have to offer?
Parking lot supplies start with signage. Industry-standard traffic signs like STOP and YIELD are ready to be mounted directly onto poles. Portable models come in a couple of styles. Signposts with fillable bases are designed to be placed right in the middle of traffic between the two oncoming lanes. Folding A-frames are the most rugged. Manufactured from tough polyethylene, these sidewalk signs are virtually indestructible (as they should be).
Crowd control displays include traffic cones and exterior-rated stanchions that come with or without retractable belts and chains for cordoning off areas. On the other hand, more substantial steel barricades provide better pedestrian protection, especially near moving vehicles.
Steel bollards offer more permanent solutions for parking lot safety. These posts are used in many ways, like blocking open walkways or lining sidewalks directly next to the curb. Moreover, their strong steel and concrete fabrication make them perfect for protecting glass buildings and pad-mounted transformers.
Smoking has been relegated further and further away from building entrances. Therefore, it makes sense to offer smokers posts at the edge of the lot as people make their way to their destination. Not only do these receptacles prevent accidental fires, they also curb cigarette butt litter.
All traffic supplies have one thing in common — they're designed to endure outdoor environments while being maintenance-free. Most of our safety products are centered around safeguarding pedestrians. In addition to the exterior-rated stanchions and cones featured here, you may be interested in our sizeable retractable belt and post & rope selections for indoor applications. Interior crowd control systems direct foot traffic in queue lines and waiting areas, and our selection has something for every budget!