Posted on 18, February, 2021
Last Modified on 23, June, 2021
Shop Products from This Guide
Exhibitions were severely impacted by the COVID-19 pandemic in 2020 with the vast majority of shows becoming cancelled, postponed, or converted to virtual experiences. While restaurants, stores and other businesses reopened over the Summer months, live events and large gatherings remained in a holding pattern until very recently.
The first major exhibits started off in January, taking notes from other industries on how to re-open safely. Social distancing, safety signage, and sanitization; all now too-familiar concepts have followed us into 2021 as the United States progresses towards mass vaccinations and herd immunity. As the risk of infection continues to loom, trade shows will not be exempt from public protocols.
But, the show must go on, and with hundreds of events already reserving space on this year's calendar; it will. We must do what we can to ensure a confident return and ultimate success. How can event planners and exhibition designers create safe environments for attendees in 2021? In this guide, we'll provide you with tips and professional recommendations to prepare for the return of in-person events.
Design Guidelines for Exhibit Booths
How to Create Space
One design element that should be top-of-mind for every vendor this year is space. Venues are trending towards larger booths to allow safe spacing between guests. However, booth space comes at a cost, and renting additional space may not be feasible for every business. Whether you're expanding your layout or going with traditional dimensions, be sure to leave plenty of room between fixtures on the floor. Ensure that points of interest like demonstration set-ups, consultation counters, and interactive kiosks have adequate space to allow guests to maintain a safe social distance.
Consider that venue capacity will vary from event to event. Many trade shows are limiting ticket sales and enforcing maximum capacities as low as 3 visitors inside each booth. The reduced capacity shouldn't alarm you, though. There are positive indicators coming from an expo in Denver where vendors reported higher buyer to exhibitor ratios and increased sales.
If possible, create two large openings in your booth for one-way entrances and exits. This will enable attendees to flow freely through your booth without brushing shoulders with the other guests.
Dividing the Floor
Beyond spacing out displays, there are other ways to create separation between interested buyers. Branded floor decals or even carpet tape can guide attendees on where to stand much like the decals we see in grocery stores today.

Another idea; split your booth up into quadrants using interlocking floor mats of varying colors. Customers can maintain their distance by standing in checkered squares on your floor with an added awareness of their aura.

In smaller booth spaces, we recommend clear floor standing banners as a non-obtrusive solution for sectioning off parts of your exhibit. These modular sneeze guards allow attendees to stay protected even when standing closer together. You can even add custom printing to clear banners to turn your divider into a branding opportunity.

Staff on the floor are going to need some protection, too. Like we've seen on today's cash registers, you'll need a countertop sneeze guard for portable counters, tables, and consultation centers. Sneeze guards come in many shapes, sizes, and materials. You're guaranteed to find one for every place in your exhibit by shopping our extensive selection.
Keep it Clean
With so many people coming in and out of your booth throughout the day, germs can build up and pose a risk to visitors and staff. Every commonly touched surface in your booth must have a convenient and accessible sanitation solution. If you have tables and seating, have a wipe dispenser nearby for regular cleaning after each use. Other parts of your booth should have hand sanitizer available, especially if you plan to have hands-on demonstrations or interactive digital displays.
Think Beyond the Essentials
Don't Forget Your Brand
So far, we've advised you on the absolute necessities for a safe booth. When essential fixtures like sneeze guards and sanitizing stations fill every exhibit, finding ways to stand out in a sea of sameness will most certainly get people to remember you.
Employ the use of low-risk branding investments through custom printed displays like banners, backdrops, and display cases to bring your booth to life through personalized graphics. If done right, the required safety fixtures will blend into the background and your branding will pop out to create a unique experience.
Digital is Your 6th Man
Last year, practically everything was virtual. Consumers have gotten used to (and expect) digital experiences everywhere they go. You can bring digital experiences to your booth through the use of digital signage, interactive kiosks, or tablet stands.
Not only are digital displays impressive, but they're also highly practical given today's circumstances. A sales pitch that was once face-to-face can now be delivered through dynamic multimedia messaging and touch screen navigation. It's a contactless and efficient way to engage with potential buyers at scale.
Additionally, you can station a few digital kiosks on the perimeter of your booth to collect leads or schedule appointments via an iPad, Android tablet, or built-in touch screen display. These interactive centers reduce the need for queues and streamline the prospecting process.
Boost engagement by integrating complementary digital experiences through the use of QR codes. Visitors can use their phone to scan codes printed on decals or banners throughout your booth to access augmented reality, view video content, sign up for an email list, or download marketing collateral.
Boothside Pickup
If the show allows giveaways, promotional gifts should be handled with caution. Food samples may be too risky, but items like branded masks or prepackaged goodie bags are generally safe to give out. Take a note from curbside pickup and lay the gifts out on a rack or table for convenient self-service. That way, guests can pick up their own gift without anyone else making contact with the item.
Prepare to Pivot
While most signs are pointing towards a more eventful year, there is still a chance that your trade show could become postponed or cancelled. Especially when it comes to the personalized elements in your booth, think ahead and prepare to pivot. For example, you may want to choose banner stands and backdrops that have reusable frames and bases, allowing you to easily switch out replacement graphics if needed.
If your booth is set up for one-time use, consider renting your fixtures to reduce your costs and environmental footprint. Alternatively, if you're a frequent exhibitor, you'll benefit from purchasing and owning displays so you can get more for your money in the long-term and minimize the risks associated with renting for a single show if event plans go haywire.
Tips for Venues and Event Hosts
Put Hygiene First
Event security always starts at the entrance. By detecting fevers at the door, you can limit the risk of people with COVID-19 entering your venue. At every entrypoint, have a way to check the temperature of attendees. Station a staff member with a handheld digital thermometer or opt for a self-service and contactless solution with a temperature scanning kiosk.
Additionally, attendees should come prepared with masks. It's a good idea to have masks available if a guest comes in with an inadequate face covering or needs a replacement at any point during the event. To ensure everyone is doing their best to protect others, have mask dispensers present at the entrance and throughout the facility.
Finally, hand washing stations and hand sanitizer dispensers are a must-have at your entrance, exit, aisles, and common spaces. Frequent hand washing and disinfecting is proven to reduce the spread of germs, so encourage guests to sanitize wherever they are on the floor.
Make Signage Clear
There are a lot of new rules to enforce this year. In order for guests to comply with the event's safety protocols, they need to be aware of what they are through constant reminders. Venues must have clear and direct signage present throughout the facility. Signs need to guide guests on the use of temperature kiosks, sanitizer dispensers, and mask wearing. Capacity of individual booths, common areas, and restrooms should also be clearly noted through your signage. Identify one-way traffic flow in aisles through the use of floor decals, arrows, and entry signs. If there are any waiting lines, mark up the queue with decals spaced 6 feet apart to guide people on where to stand.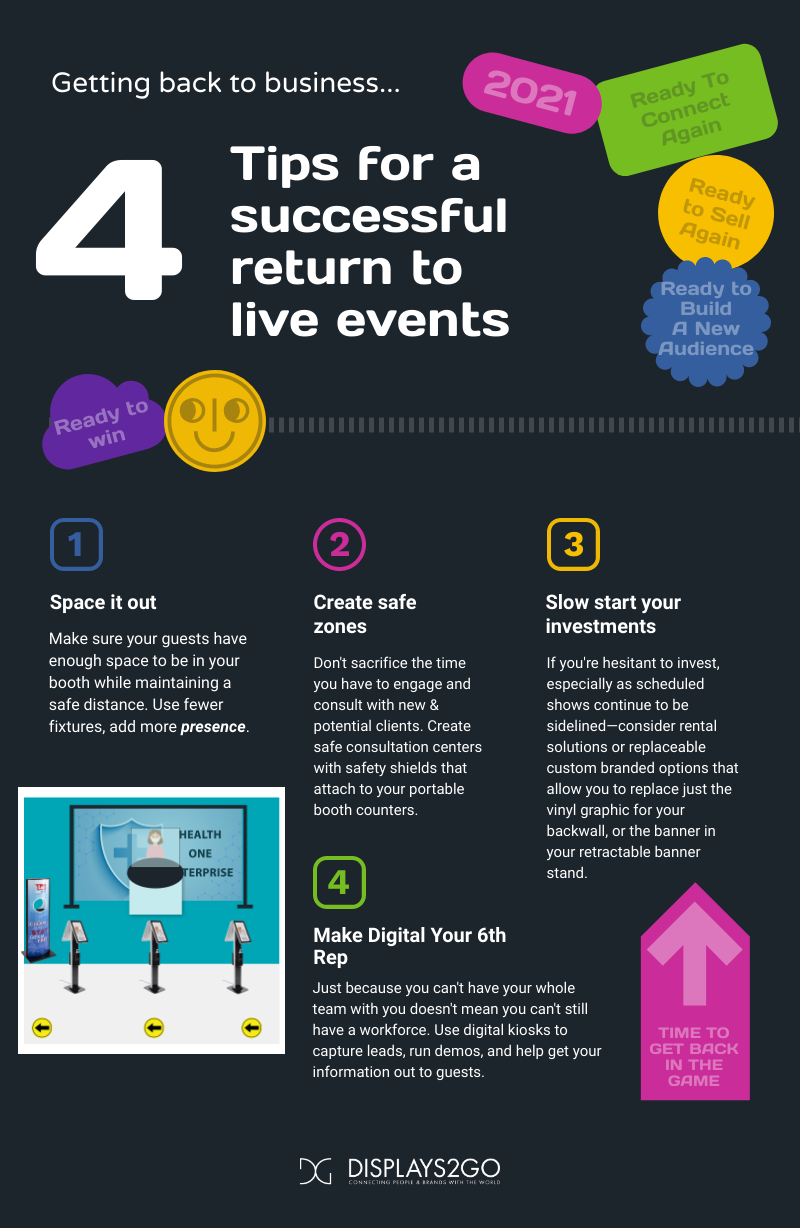 These recommendations have been provided by the team at Displays2go based on our best research. For official guidance on COVID-19 protocols for large gatherings, visit the Center for Disease Control and Prevention (CDC)'s website.