Lobby Signs | Message Displays & Crowd Control Stanchions
Lobby Signs - Message Displays for Business and Office Reception Area

The first impression patrons get is usually from these lobby signs in the atrium or reception area. So, what are lobby signs? Any fixture, stand, or furniture typically seen in the reception area of a business or office is an example of this message display product line. Lobby signs should create a welcoming atmosphere, without looking cluttered or overwhelming. The directory signage shown here will certainly accomplish interior decoration, and not break your budget in the meantime. Whether you need to outfit the interior of a lobby, an office, or the waiting room in your company or building; there are plenty of options here to choose from. Lobby signs are shipped by the hundreds every day from one of three large warehouses. There is a terrific selection of message displays & signs available in a wide array of styles, sized for a myriad of uses, and suitable for any budget.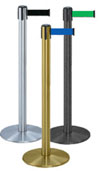 Sign directories enhance any atmosphere, and provide a means to inform guests of the services, products or specials being offered. In addition, portable signage provides visitors assistance with directions. Lobby signs are essential to hospitality businesses. Buy floor standing letter boards, crowd control stanchions with a variety of portable customer service tools. The changeable letter boards make great visitor information display products. High quality product lines include art easels, as well as sign stands. Information signs with various sized frames are also available. This lobby sign fixture includes such items as; decorative easels, poster stands, lobby furniture, and much more. Start shopping today from the huge selection offered above!
What are some of the benefits to using lobby signs such as directories?
Patrons are often drawn to signage and directory signs. These sign displays and other sign stands accent signage, while keeping advertisements at eye-level.
Lobby signs also include merchandise such as art easels; a vital fixture for art galleries.
A company's largest opportunity to make a lasting impression with their patrons is with the fixtures in their vestibule. The products featured on this page, such as the easels and other lobby signs, are quality products, certain to enhance any existing lobby décor.
Art easels are vital to galleries or painters in order to secure paintings on display. Artists utilize these displays to hold their work while they are in the process of creating their next masterpiece. These art easels are also used by galleries to display these works of art at an expo. Various styles are available, as well as different wood finishes. These studio easels are built with quality wood, and a solid design to provide a stable display for canvases or paintings. These easels are typically kept in one place and used during studio painting. All of these art easels are easy to set up. For units that do require simple production, a set of clear instructions are included. Artists can feel at alleviate when ordering one of these art easels, knowing that they are getting a quality unit that they won't have to waste a lot of their time putting it together.
Easels are vital presentation displays used in many settings throughout the corporate and art world. These tripod stands are easy to set up and typically require no production prior to use. There are hundreds of easels available in many sizes including tabletop models, and easels sure to please any bargain-patron. Current inventory includes floor standing displays starting as low as $15. Economy easels may be low-priced, but they are certainly not low-quality. These products are made of quality materials, and are inspected prior to being packaged. Tabletop easels are ideal for use by retail stores to display small merchandise, or to prop up a book at a bookstore. Counter top stands can also be used in a home to showcase a collector's plate, or other precious memorabilia. Decorative easels are frequently seen in upscale hotel lobbies, as well as art studios. These fancy tripod stands complement the sign or painting on display without being too distracting. Choose from decorative easels including brass easels, and other stands with ornate accents.
Display easels are often seen in hotel lobbies and other businesses to exhibit signage or other graphics to keep their patrons enlightened. Some of these tripod stands feature decorative metal scroll work, or baroque accents. Wood easels are another popular preference for use as a display easel. These wooden stands come in various finishes and add an elegant accent to existing décor, while keeping the displayed painting or sign at a desirable height. Many of these display easels come with adjustable pegs. These pegs allow users the versatility of displaying paintings of varying heights, or the ability to change the display level. New to this product line are stands that can be adjusted for use as either a counter top or floor model. These display easels are ideal for travelling sales people who have to give presentations. With a quick release of a few clamps, the legs collapse to a smaller or larger size. Included with these adjustable display easels is a canvas carry bag, making them a cinch to take along on business trips.
What other easel fixtures are available in this online catalog?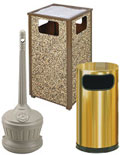 There are many different product lines available here such as; art easels, display easels, and easels that have been paired with poster frames.
There are also small tabletop displays that are used in retail locations or in a home.
Classroom easels are a vital tool for teachers and schools that use portable fixtures for daily lectures.
For additional questions, please contact one of our customer service representatives on live chat Monday - Friday 9:00am to 5pm EST, by phone or email. Our team members can answer questions regarding products and freight as well as many other topics. So whether you're looking for new holders to showcase signage, or new furniture for the office, we have exactly what you're looking for. As a nationwide leading supplier our mission is to provide the most affordable display products while also delivering the highest level of customer service. In addition, we have an unbeatable shipping policy; buy in stock items before 3PM EST Mon. - Fri., and most products ship the same day!