Wall Mounts for TVs & Accessories
These Wall Mounts for TV Make Installing a Monitor Simple!
These wall mounts for TV are adjustable racks designed to hold televisions on walls and ceilings. Flat panel LCD brackets are very durable and easy to set up. These wall mounts for TV, often referred to as plasma television brackets, come in a range of sizes to accommodate televisions of different widths. Who uses flat screen mountings? Homeowners, store managers, trade show booth operators, and professional advertisers implement wall brackets and accessories to get their point across. Maximize floor space in any room. Retail stores especially enjoy utilizing a wall mount for TV, so they have room to display their merchandise and maneuver on the ground. Schools use these flat screen mountings to make sure students can see the screen. Displays2Go offers wall mounts for TV that tilt, pan, and articulate to the perfect angle for all viewers. With the ubiquity of flat screens throughout the world, plasma television stands are a necessity. These flat panel LCD brackets are sure to meet every specific need.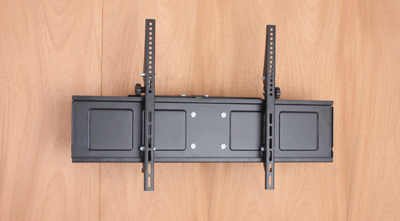 How easy are these flat panel LCD brackets to set up?
It is easy to affix a TV to a mounting surface with these wall mounts for TV. All flat panel LCD brackets include the necessary installation hardware. The simple screws, washers, and bolts are all in the packaging. In some rare instances, users will need to acquire an extra screw or bolt. However, this additional hardware is easily found at electronics and hardware stores.
Wall brackets are VESA-compatible. VESA, also known as the Video Electronics Standards Association, has regulations for televisions and mounting brackets. All of the major television manufacturers, such as Philips, Samsung, LG, and Sony, follow these stipulations. Displays2go is proud to offer flat panel LCD brackets that not only hold these companies' televisions, but are also VESA approved.
Locking bars are an added touch on these flat panel LCD TV brackets. These bars slide to conform to the width of your television. Pull the bar along with the attached ribbon until it is flush against the monitor. Once in place, lock the bar.
What special features are available with these LCD monitor brackets?
Moving flat screen mountings add a little more pizzazz to television messages, while providing plenty of sight angles to viewers. Tilt the screen up and down, pan left to right, extend the screen from off the wall, or rotate the television from the ceiling. Possibilities are endless with these brackets.
Remote controls are included with some of the television brackets. The remote allows users to adjust the screen from anywhere in the room. Sit down in a chair and tilt the television to the precise angle desired.
Landscape and portrait formats are obtainable with one of the flat panel LCD brackets. The racks adapt to the width of almost any TV, so the brackets will expand for landscape and contrast for portrait formats.
The addition of a bubble leveler on these brackets insured televisions are not crooked. There is nothing more distracting to viewing audiences than a television that is not straight. Keep the focus on the message and not an uneven flat screen.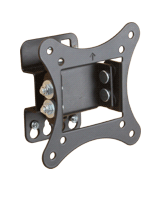 The most common type of flat screen mountings is the stationary models. These flat panel LCD brackets do exactly as their name implies: keep television screens in one place. These TV displays are a great option for establishments that don't want patrons or customers manipulating the screen. Restaurants and sports bars often utilize this plasma television stand to show big games or other televised events. Airports have brackets like these to display arrival and departure information. These flat panel LCD brackets are designed in style that will fit almost any width television. Models crafted for smaller televisions will hide behind the screen when a television is affixed.
Many of the fixed position brackets come with a slim, or low, profile. The design holds flat screens TVs close to the wall, so as not to interfere with passersby. These plasma television stands are favorites in highly trafficked areas, such as convention centers and malls. This type of flat screen mounting holds the television less than one inch away from the wall. Damage to an expensive flat screen TV is much less likely when it is closer to the wall. Retail stores can increase aisle space with a bracket of this ilk. Wall mounted televisions no longer have to be obtrusive! The thin profile bracket draws attention to the televised message for the right reasons.
Give some extra movement to flat screen displays by tilting the TV up and down. Many of the tilting flat screen mountings have 20 degrees of motion. Capable of angling five degrees up and fifteen degrees down, these flat panel LCD brackets can adapt to the level of any viewing audience. Some of these can pan left and right in addition to adjusting up and down. Manipulate the TV up to 30 degrees to the left or 30 degrees to the right. Change the angle of the television in the kitchen while making dinner. As users go from one appliance to another they can keep an eye on the screen.
Articulating plasma TV stands allow users to extend the flat screen out from against the wall. All of these models are equipped with at least one retractable arm. These arms are capable of holding a TV over one foot away from the wall. These flat screen mountings are commonly found in rooms with limited wall space. The brackets can angle the television to the precise position desired. Manipulate the screen to address questions at a presentation or boardroom meeting. This characteristic makes these models a great addition in homes. Give flat screen a whole range of motion with this flat panel LCD bracket.
Universal mounting brackets are able to hold nearly any size TV. This style of plasma television comes in two different sizes to fit the exact specifications of the screen. The first can accommodate televisions 32" to 50" wide weighing up to 132 pounds, while the second works for screens up to 165 pounds and 23" to 60" wide. Both have a sleek black polished metal exterior. The arms on the brackets slide in and out to fit the exact size of the television. Position television screens in either portrait or landscape format with these flat screen mountings. Arm extenders are included for increased versatility.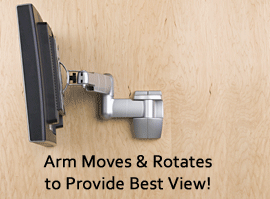 Not enough wall space to mount a television in your establishment? That is not a problem! There is a whole line of flat panel LCD bracket styles in this online catalog. Available in black polished and silver polished metal, these ceiling brackets can extend and retract to the absolute best height. Tilting and panning are also options users can take advantage of with these plasma television stands. Some of these ceiling racks can even rotate 360 degrees. Perfect for retail stores and convention centers, these rotating flat screen racks will captivate an audience in any corner of the room.
Displays2Go.com is a leader not just flat panel LCD brackets, but the entire display field. Browse through the complete online catalog consisting of cabinets, brochure holders, cork boards, digital signage, and much more. There are even media player packages that bundle televisions, players, and racks in one! Most of the merchandise is manufactured right on the premises. With a real warehouse located in Fall River, MA, Displays2Go is able to make delivery offers that its competitors cannot. All orders placed before 3PM EST will ship the same day, if items are in stock. Check the live inventory on each page to see exactly how many of each item is available. The online catalog is constantly expanding to include the latest innovations in the display world. Check back frequently to take advantage of all the new merchandise as well as amazing deals. If any questions arise feel free to contact the friendly customer service representatives. Expertly trained, these agents know everything about this collection of displays. Call 1-800-572-2194 or click on the Live Chat icon on any page to communicate with a representative. They are available Monday through Friday from 9:00 a.m. to 5:00 p.m. EST. Special orders are encouraged! Thousands of displays to choose from! Shop with us right now!