Highboy Cocktail Tables are the Perfect Accessories for Events and Receptions
---
High-Top Tables Are Staples of the Event Industry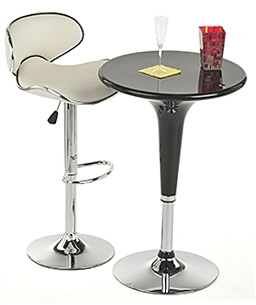 Need to create an attractive and inviting environment for casual gatherings? Let highboy cocktail tables lead the way! Whether it's a banquet reception or a trade show lounge, these stylish furnishings enhance any occasion at hand. What separates highboy cocktail tables from others is their tall stature. Sized for pulling up stools or pub-height chairs, guests can also stand by them to rest their glass while being part of the conversation. We stock high-top models ranging from modern to utilitarian — for temporary events or full-time use. Even better, the majority of cocktail and cruiser tables offered here fall into the $50-$100 price bracket. How's that for added value!
What styles of pub height tabletops do we sell?
Cocktail — trendy bars and lounges like to amp up the sophistication factor. With our fancy selection of round top designs, we feature styles guaranteed to please both the owners and their patrons. Folding models are available in black or white for temporary events. The tables featuring chrome-plated bases and pedestals are height adjustable. The gas lift action makes it easy to adjust the level for sitting or standing.
Cruiser — for more full-time use, we recommend these rugged square or round tables. The bases and poles all feature long-lasting black powder-coated finishes. Hooks for hanging handbags are located beneath the top. A cruiser table trademark, plastic laminate tabletops are available in a number of realistic-looking wood finishes, such as mahogany and walnut.
Specialty — looking for something a little different? Affordable, single-use cardboard models are great choices for trade shows since they ship flat and assemble in seconds. However, if your reception or event requires the WOW factor, we highly recommend LED illuminated tables. You can't beat these furnishings for creating an entertaining and festive atmosphere. The internal LED lighting offers lots of color choices with flashing and morphing effects. As you would imagine, they look fantastic in dark or low-light environments. Customization is also possible. Our cardboard, cruiser, and LED styles (select models only) all offer custom printing. By adding a logo or event graphics, your furnishings transform into marketing beacons for your business.
High-top tabletops are also popular additions to pubs, cafes, and restaurants. Any establishment attempting to create a welcoming and comfortable environment would benefit from these great furnishings. And what about seating? Tables need chairs. Counter-height stools are the perfect match. Our expansive selection offers not only traditional pub chairs but also designer models that pair most effectively with the upscale and contemporary styles featured above.