Shelf Sign Holder | Grippers, Magnets & Adhesive
---
Shelf Sign Holder - Shelf Talkers for Retail Use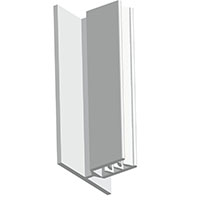 This shelf sign, also called a signage frame, can be used to differentiate between similar items or products on a bookshelf. The acrylic display holder is available in (3) different sizes. The shelf sign's varying sizes are offered due to the different type of shelves found in retail and office environments. Each acrylic holder can exhibit basic labels to differentiate between similar movies with genre labels for each section. The shelf sign holder is offered in three sizes; 4" x 6", 5" x 7" and 8" x 2". The simple, fold-over frame can hold signs printed on thin cards or regular sheets of paper. The 8"w x 2"h shelf sign is wide for labeling several binders that belong to the same category. The 4" x 6" and 5" x 7" sizes have a much more square sign area for providing more detailed reference information.
These sign holders are also used as shelf talkers. You might be wondering, what is a shelf talker? They are designed to call attention to products on retail shelves. A good shelf talker will use a promotion, brand logo or any other custom text or images to make a product stand out and communicate information to the shopper. A shelf talker will point out a sale on a specific selection of products, give a short description of the product line, and even include QR codes for the customer to scan. Particularly striking shelf talkers are known as shelf screamers, and are used to call extra attention above even the shelf talkers.
Where can the shelf sign be used?
In bookstores or libraries on the shelves to differentiate between the different genres or authors.
In office building for the bookkeeping department.
In retail stores to either hold large sale signs, information or product cards for customers to learn more about a particular product.
In warehouses to hold inventory or bay tags, making it easy to scan things in and out.
In clothing stores to tell the difference in sizes that are being held on each shelf.
Anywhere there is a shelf with items that need to be labeled!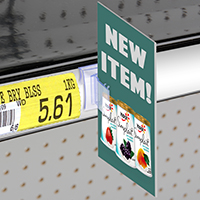 Each shelf sign is constructed from acrylic plastic. The label holder's material is .087" thick. This shelf sign is lightweight so it easy to insert into a high shelf. The label holders' key benefit is the fact is slides securely onto a shelf, instead of clamping on the front. The shelf sign comes with a thumb groove cut into the back to facilitate sliding signs in and out. Also anyone who is using these label holders doesn't have to worry about the labels falling out. Each shelf sign is clear allowing customers to read the labels being held. When used to hold inventory tags the barcodes can be scanned through the acrylic panel. The shelf sign extends several inches deep on a shelf to ensure it will not fall forward. Please make sure to check the depth of any shelf intended you intend to display these frames on. See individual product pages for details on exactly how far each shelf sign holder extends. This acrylic frame is evenly balanced, meaning the holder will not fall off of the mantle even if there is nothing weighing the unit down. The shelf sign can fit more than one label allowing a store to put up an original price and then stick the new sale price on top of the original. This convenience safes employee's time in reprinting original signs, when the sale is complete, they no longer have to remake the old signs.
What are some of the things this shelf sign can hold?
Inventory tags or bay numbers in a warehouse.
Genre labels in movie, video or book stores.
Product cards listing the differences of two high end electronics.
Information cards giving complex items pertinent information so the customer understands what the product or items do.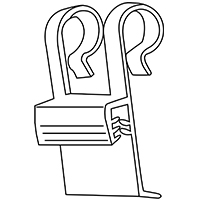 This online website offers all kinds of different label frame options you can choose from. Displays2go sells several other acrylic holders such as vertical, countertop sign holder. There are also several floor standing display solutions such as poster stands, display cases, and portable counters. Dynamic digital advertising displays available on this site include digital frames and LED Boards. Whatever sign holder your company needs, you are sure to find it here on this website. This online catalog is the leading POP display supplier in the nation! Whether a business needs to label merchandise or attract customers, this catalog offers a display solution to get the job done!
Displays2go has been an industry leader in this country for 40 plus years in promotional and merchandising displays, point of purchase products, tradeshow supplies, store fixtures and more. With a constant influx of new and innovative products going online every day, we are sure to stay ahead of the pack for many more years to come! The company has (3) large warehouses that hold close to two million products at any given moment, allowing us to have the shortest lead times. This allows us to get products out to our customers in the shortest times possible. There are recently over 7000 unique products available and the number is growing every day. The website is a sure way to have all your advertising fixture needs met in one place! Remember to place your order with us either online or by phone (1-800-572-2194) before 3PM EST Monday – Friday and most items qualify for same day shipping! We appreciate your continued business.