Wall Mount, Ceiling Hanging, and Floor Standing Poster Holders 11" x 17" and Larger
---
Poster Holders for Wall, Floor, and Hanging Display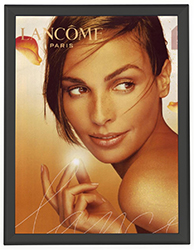 Want to point people's attention to your advertisements? Our wall mounted and floor standing poster holders are perfect for promoting companies and their brands. We offer hundreds of different models to accommodate different businesses — our sign displays are great for restaurants, retail stores, banks, and even outdoor event venues. No matter the setting, our wall mounted and floor standing poster holders underline promotional images rather than distracting from them. This huge selection of advertisement frames is made for durability and affordability to accommodate any business. Browse wall mounted and floor standing poster holders in a wide variety of sizes, all offered with quick shipping and bulk pricing.
What are the advantages of using signage stands and mounts for advertising?
Visibility - Wall mounted and floor standing poster holders feature large media sizes that are hard to miss. Our minimalist frames put promotional materials front and center, drawing attention to the message on display. Illuminated framing makes prints pop, especially in areas with dim lighting.
Convenience - When it comes to marketing, it can take a lot of work to maintain your ad campaign. Signage lets businesses owners "set it and forget it" when they feature their graphics. Snap open frames and banner rails make changing ads a simple process that takes less than a minute.
Versatility - These wall and floor poster holders include ceiling hanging and window sticking models as well. If there's an empty space in your store, bar, or lobby, there's a fixture for it. Bring customers in with sturdy sidewalk A-frames or create a mallway centerpiece with an angled directional sign floor stand.
Durability - All of our marketing displays are made from long-lasting materials including aluminum, acrylic, and wood. Most framing includes a clear protective faceplate that ensures that prints will always look professional. Advertisements behind this see-through acrylic or PVC lens are safe from moisture, dirt, and fingerprints.
These metal, wood, and plastic wall and floor poster holders come in a variety of finishes. It's important to choose a color that goes with the location as well as the marketing materials. Black and silver are neutral finishes that will match any environment. We offer hundreds of models with these choices because they're perfect for complementing or contrasting advertisements. Clear signage fixtures feature a sleek appearance with a full viewing area. Wood marketing framing is offered in a number of classic, natural finishes like mahogany, cherry, and oak.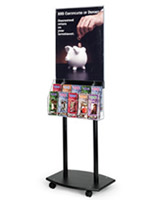 What specialy sign displays do we offer?
Outdoor poster holders are the best for bringing in customers from the sidewalk. Both mounts and stands are available for featuring a specials menu or limited time offer outside. Options range from simple clear acrylic pockets to large waterproof displays with rubber gaskets. Our large selection of outdoor pavement and sidewalk signs features rugged metal and plastic constructions. These are often wind resistant with springs, weighted bases, and swinging designs.
Snap frames make changing prints a breeze. These quick change poster holders are ideal for restaurants, stores, and real estate agencies that need to swap signage often. Simply roll back the metal edges, remove the image, replace it, and close it all up. Browse our large selection of front loading snap open frames with standing, mounting, and hanging designs. Use the filters on the left to find the right model for your needs.
Sign holders with literature racks are great for dispensing promotional brochures and catalogs. Call attention to passersby with marketing prints and then give them something to take home. Each promotional display uses clear acrylic pockets to maximize visibility for pamphlets and magazines. Poster floor stands with brochure holders excel at promotion in lobbies and mallways.
Graphic framing is an ideal solution for getting the word out. What better way is there to promote a new product line, service, or special event? Businesses can personalize their marketing campaign with enticing visuals and unbeatable offers. However, offices and restaurants also use these frames to feature appealing artwork. It's not all about promoting the brand, beautiful photography and paintings contribute to an inviting atmosphere. Consider the many uses of these signage stands and mounts, all sold with fast shipping and wholesale pricing.