iPad Air Stands - Floor Standing Kiosks, Wall Mounted Displays, and Countertop POS Holders
---
iPad Air Kiosks and Enclosures for Business and Residential Use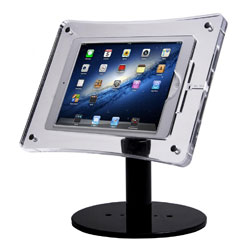 Do you use a tablet in your business that could benefit from a more seamless integration? Our iPad Air stands make it easy to create a secure info kiosk, countertop checkout system, or wall-mounted display by using your existing device. Locking, floor-standing enclosures allow customers to browse your full catalog while they wait or even make special orders themselves, which can be crucial during high-traffic periods where sales associates are busy assisting others. Interactive iPad Air stands deepen engagement with your guests, which can make them feel more connected to and invested in your business. When using a wall-mounted display to show advertisements and informational content, incorporating multimedia into your store can open up new possibilities for sales where you might have relied on traditional signage in the past. Of course, many businesses are turning to tablet-based POS systems as an easy-to-use, feature-rich, and cost-effective alternative to traditional cash registers. Countertop iPad Air stands for checkout are essential for this use-case, allowing users to input orders, rotate the device, and have customers pay and sign right on the screen. However, these tablet enclosures also come in handy in your home — keep a recipe in view while your hands are occupied, pull up some instructions while you learn a new skill, or keep a how-to video accessible while you do a little DIY home repair.
What are some uses for different types of tablet holders?
Floor standing kiosk-style enclosures — These iPad Air stands are most suited to information delivery with an interactive touch and self-service ordering. Allow customers to browse items they may not find in your store or really dig into the details of a product they're considering purchasing.
Rotating countertop tablet holders — Setting up a modern checkout system has never been simpler, especially now that your personal touch screen device can basically handle the whole process, from inventory management to payment. A rotating fixture that allows customers to pay and sign makes buying from you as easy as possible and keeps lines moving. Plus, many models are mobile, so they can go with you to pop-up events or accompany a traveling business model, like a food truck or craft fair merchant.
Wall-mounted fixtures with covered home buttons — Best for autoplay content, these enclosures have a permanent place in your business and are generally out-of-reach. However, with an ongoing effort like tracking customer feedback or collecting leads, these fixtures can be a powerful tool for increasing engagement.
Secure iPad stands are also becoming increasingly popular at trade shows, conventions, and expos. By creating interactive presentations for booth visitors, it's easy to engage and educate about a service or product without even having an employee speak. Using a floor standing enclosure for your iPad Air to display promotional content helps sell products and build brand awareness without the need for a dedicated employee. Conventioners also use kiosks to allow customers to punch in their contact info and gain some new leads. Plenty of tablet apps are available that will help companies build a large database in a short period of time. Of course, iPads aren't the only devices available on the market. If you want to utilize your existing touch screen to its fullest potential, explore tablet holders for Android and Microsoft Surface models, as well as enclosures with universal compatibility, to find the right countertop, floor standing, or wall-mounted case for your business needs.