Body Scanners and Warning Devices with Contact-Free Design and Privacy Protection
---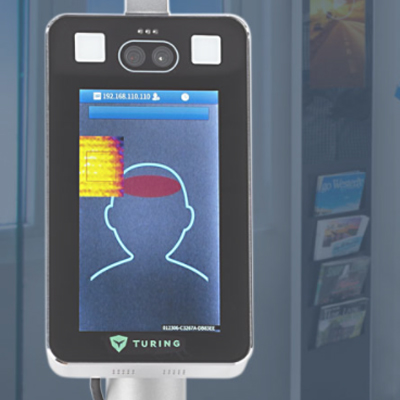 Accuracy Where it Matters
Boasting a 0.1 second response time, our fever detector accurately measures body temperatures between 95.9° F and 107.6° F with a precision rating of +/-0.5°F. Your visitor's hands-free temperature is taken and reported with both visual and audio prompts, helping streamline the process to ensure swift movement through lobbies and entryways.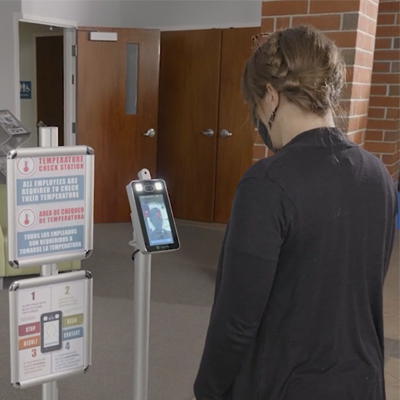 Hands-Free Scanning
Non-contact body temperature screenings maintain sanitary conditions even in the most heavily trafficked public areas such as business entryways, hotel lobbies, and foyers. Touchless thermal imaging technology is but one extra precaution our Turing body temperature scanning kiosk takes to ensure seamless transitions from outside, potentially contaminated spaces, to the safety of your workplace.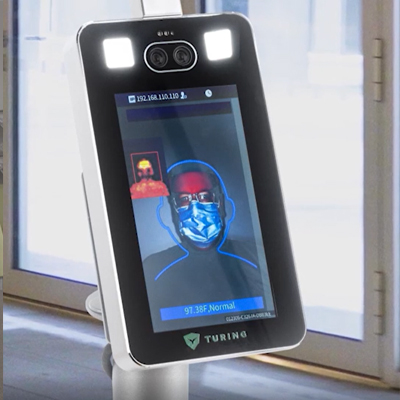 No Set-up Required
With its plug-and-play design, any organization can simply set this body scanner up by an entryway without the need of a dedicated IT team. What's more, there is no programming required, no facial recognition software, and absolutely no data storage to deal with - making our thermal temperature scanner a simple, one-trick device with the sole intent of keeping your business safe.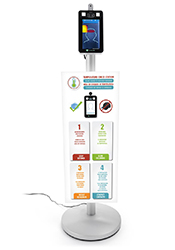 Touch-Free Scanners Read Body Temperature & Physical Distance Quickly and Safely
Are you looking for a better way to reopen your business while adhering to various social distancing guidelines? Our line of body scanners and warning devices include non-touch floor standing Turing fever detectors as well as Aura Aware proximity sensors, leaders in an emerging industry. Both are a great way to prevent people infected with COVID-19 from entering crowded areas and exposing others to the virus while also providing in-house safe spacer tools. Each floor standing body scanner and warning device gives a quick response with audio and visual cues to keep the foot traffic flowing freely in business entryways or to inform guests that they are standing or seated too close. The screening kiosk additionally features a touch-free design to prevent users from breaking social distance or touching contaminated surfaces.The body temperature scanners and warnign devices are made to create safe and healthy work environments during the global pandemic.
What features make these fever scanning kiosks great for businesses?
These body temperature scanners are accurate, even though they're used at a distance. They have a detection range of 95.9° to 107.6° Fahrenheit and are precise to half a degree. This is ideal for preventing false readings, ensuring that it accurately detects people who have a fever.
These fever scanners also protect the privacy of the customers they're screening. While they can detect and scan faces, none of this data is stored. This is not "facial recognition", which can distinguish a person's identity. Keep people at ease with this design that respects their privacy.
The temperature scanners are easy to use, providing both audio and video prompts to facilitate the process. These digital fixtures are highly accessible to ensure that any business can use them.
Our non-touch temperature scanners are also very safe — they're made to be used with no contact required. This reduces the chance that highly infectious diseases like COVID-19 will spread from person to person.
Each screening kiosk keeps the line moving by returning results quickly. The floor stands have a fast response time of 100 milliseconds, or more simply, a tenth of a second. This is a great way to quickly get healthy customers in to patronize your business.
While the floor standing scanners are made to detect fevers by looking at people's faces, they can operate while the subject is wearing a mask. Wearing personal protection has become ubiquitous during the pandemic, and it should be kept on to maintain best practices.
How do businesses benefit from utiizing proximity warning devices?
Aura aware smart distance devices turn red to ward guests when they are within 6-feet, helping customers in line, bar staff, hostesses, and receptionist maintain order and safe social distancing in the workplace. While safe spacing practices may take some getting used to, especially in heavily trafficked public spaces, it is great to have a visual reminder for when people get to close.
Easy to use directly out of the box, each warning device requires no set-up, software, or calibration. This means that any employee, at any business, in any industry can simply remove this piece from the box and instantly get to work toward inproving public health standards.
for many, it is difficult to visually guage 6-feet in practice. Not only will this distancing device inform customers when they are too close, but can steadily train the public to percieve this distance correctly, so their behaviours may tranlate into better practice even outside your place of business.
Choose these non-contact screening kiosks to quickly get people in the door, whether it's a bar, restaurant, retail store, office, or warehouse and keep them evenly spaced with out proximity sensors once inside. It's important to create safe environments in a world affected by a highly infectious disease, not just to stop infection, but to reduce stress and tension in social situations. Ensure you're providing a healthy experience with more of our Coronavirus safety supplies including social distance signage, sneeze guards, and PPE holders.