Slatwall - Standard, Decorative, and Customizable Panels, Kiosks and Accessories
---
Floor Standing and Wall Mount Slat Wall Panels, Displays & Retail Accessories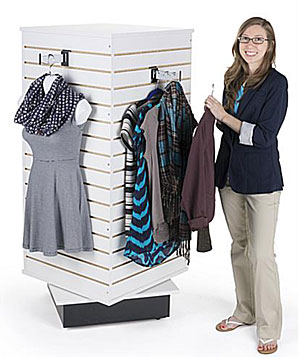 Why is slatwall one of the most popular choices for retail or commercial merchandise displays? This type of versatile fixture is designed for flexibility, fast swapouts, and easy customization. The wide selection of commercial grade slatwall displays featured here includes panels, floor standing kiosks & gondola shelves, along with plenty of accessories for merchandisers to take advantage of. These retail fixtures are ideal for any store or commercial setting. We carry a wide array of merchandising accessories as well as slotted panels for POS sales displays. Our fixtures are offered in many different wood finishes as well as stylish designer styles that add flair to any store decor. Retail slatwall kiosks and panels, sometimes called slatboard fixtures, are designed to allow changing store displays with ease. Quickly swap out shelves, bins, hooks and signage to help increase visibility of hot merchandise or clearance items. These fixtures and accessories are easy to use, and require no additional tools to attach or remove. Slotted panels, gondolas, and kiosks, along with matching accessories give maximum merchandising versatility for clothing, jewelry, eyewear, and a myriad of other commercial and retail possibilities. Standard 3" on center slat sizes make it easy to mix, match, and swap shelves, bins, racks, faceouts and hooks to perfectly customize each display to your needs.
What types of standard size slatted fixtures are available?
Freestanding slatwall fixtures come in a variety of configurations that allow stores and businesses to create high visibility displays customized to their merchandise line with ease. Gondolas, kiosks, and towers come in single, double-sided, and multi-sided configurations that help maximize floor space in busy public environments.
Wall-mount slatboard panels are ideal for using in retail, commercial, and home or garage environments. Available with standard spacing as well as with heavy-duty insert options, these versatile fixtures can help create open-access displays for everything from sales signage to marketing collateral and store merchandising.
Countertop slatted merchandisers are a great choice for point-of-sale and POP impulse items. Available in double-sided or spinning styles, these small slat board stands are compatible with standard-size hooks and hangers for maximum merchandising flexibility.
These versatile fixtures come in a variety of colors that easily match or complement almost any decor. Neutral white and black display bases and kiosks help focus attention on merchandise or informational displays. Standard wood finishes such as maple, cherry, and mahogany are ideal for commercial environments as well as retailing, and help give a warm feel to any business. For maximum-impact visuals and distinctive contemporary decor, we offer a range of decorative designer slatboard finishes that are a perfect way to create in-store advertising. Rustic weathered barnboard, faux brick, tiling, and unfinished industrial style slatted chipboard panels allow businesses to attract attention to specialty merchandise, or to create one-of-a-kind themed store decor for branding.
Displays2go offers a huge selection of accessories designed to fit our slatboard fixtures and slatted wall panels. Our ever-expanding line of slatboard-compatible merchandisers includes sign holders, poster holders, brochure pockets, literature racks, eyewear, jewelry displays, and even poster displays. Create your own unique arrangement of accessories and slotted hardware to entice and interest your target audience. Most slat walls are universal, making it easy to add on to an already existing collection or setup. Slide retail shelving in place to stack shirts, pants, purses and more. Peg hooks make it easy to hang any clothing items. Other accessories are available including shelves, hang rails and pricing boards.
Flexibility is perhaps the most key feature offered by commercial-grade slatted fixtures. Base styles are available to meet any store's setting and layout. Freestanding displays, available in two and four sided designs, many with hidden caster wheels, allow departments to rearrange the sales floor as needed. Wall panels are great because they help conserve valuable space. Multi-sided kiosks attract attention from every direction, making them an ideal choice for information centers in service environments, concourses, and lobbies as well as in commercial spaces. In addition to standard neutral shades such as black, white, and woodgrain finishes, we offer specialty designer wall-mount slat boards that can easily create a retail feature area or match decorator-inspired store decor.
Displays2go offers the largest assortment of display products in North America. In addition to our huge variety of retail merchandising accessories, we offer highly competitive pricing for custom-printed items as well as stock fixtures. Personalized, full-color imprints are a great way to showcase logos, line information, or marketing messaging to customers, clients, and patrons in any environment.