Posted on 15, December, 2015
Last Modified on 01, March, 2023
Shop Products from This Article
Outfitting your store with the proper fixtures and layout can be overwhelming. You want something sturdy and high quality that won't damage easily and always looks professional. But, it also needs to adjust to ever-changing inventory and layout updates.
Merchandisers across the world have found the solution to their display woes: slatwall. From large department stores to neighborhood boutiques, slatwall systems take the stress out of organizing and designing retail layouts.
The Basics - What is Slatwall?
Slatwall is a building material characterized by horizontal grooves - also known as slats - that come in a variety of forms, ranging from wall panels to freestanding fixtures. They are used in conjunction with attachments like bins and shelves that hook snugly into the slats. That means you can update your slatwall displays in minutes without any tools.
So why is slatwall one of the most popular store fixtures and displays used by retailers worldwide?
Durable - This building material has an impressive life expectancy, is difficult to damage, and can hold heavier merchandise than other fixtures, especially when metal accessory rails are inserted into the channels.
Affordable - With its variety of uses and versatility, slatwall is a great bang for your buck. The basic, no frills slatwall panels are priced fairly low. Higher rated boards with custom finishes will fetch a higher price tag, however.
Custom Looks - Between the assortment of finishes, sizes, shapes, and types of attachments, you can create a retail display unique to your business and its needs.
Versatile - There is no single right way to use slatwall. They can be used to display clothing, candy, brochures, body care products, and much more.
User-Friendly - You won't need your toolbox with slatwall displays. Once you've assembled your fixtures and panels, all you have to do is hook on your attachments to start merchandising.
Choosing Your Slatwall
With only a handful of exceptions, there are two things that all slatwall boards have in common: they are made of fiberboard and they have grooved slats. From there, the slatwall family has an endless variety of characteristics and differences.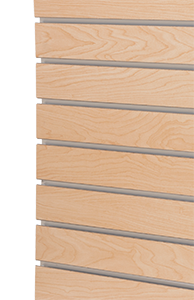 Material
Most slatwall is made of medium density fiberboard (MDF), known for its economical price and impressive strength to weight ratio. Some manufacturers create MDF hybrid boards or use other materials like PVC for their boards. Stick with MDF if you're on a budget and/or don't have any specific display needs, like waterproof panels or higher weight capacities.
Finishes
The available selection of finishes and laminates for slatwall has grown exponentially over the years, providing you with ample options to find a display that fits your store's personality and budget.
Unfinished/Paint Grade: These raw, fiberboard panels can be displayed as is or painted to match your store's decor. Price: low.
Melamine: Also known as low pressure laminate (LPL), this finish offers a high-end look for a lower price. No painting or finishing required. Available in solid colors or wood grain. Pricing: midpoint.
Real Wood Veneer: These boards can be sold unfinished or coated with varnish, lacquer, or a stain. The most common styles are birch, cherry, mahogany, and oak. Pricing: varies.
High Pressure Laminate: This finish is the most heavy duty and resilient available. Unlike other finishes, high pressure laminate (HPL) is produced in a large variety of colors and is recommended for those requiring a color-specific look. Pricing: high end.
Groove Spacing
A key characteristic of slatwall is its grooving. Groove spacing is measured from the center of one groove to the center of the next groove. Smaller groove spacing allows for more usable grooves and display space while larger grooves offer more strength. Typically, the size of the groove is one standard size.
The standard slat spacing is 3 inches, commonly denoted as 3" OC. This spacing provides the most number of usable grooves without compromising strength. Other common spacing sizes are 6" OC and sometimes 12" OC, though some manufacturers offer more unique sizing for custom orders.
Wall Panels & Freestanding Fixtures
Slatwall units are primarily found in two different forms: wall panels and freestanding fixtures. They all help you create an effective display system, but choosing the right fixtures depends on your unique needs and space.
Wall Panels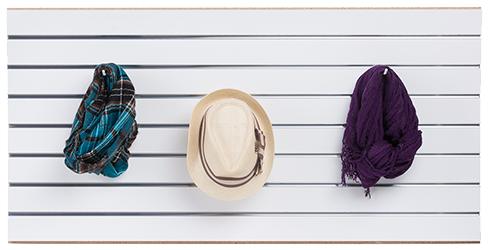 Though they are a bit more labor intensive to install than their freestanding counterparts, wall panels are worth the time and energy. They help free up precious floor space and move products to eye level for easier browsing.
Available in varying sizes (ex. 4' x 2' and 4' x 8' panels are most common).
Can be mounted as a single unit or in multi-panel configurations (ex. vertical columns, horizontal strips, etc.)
Moves merchandise to eye level for easy browsing.
Allows you to display vertically, opening of floor space and creating a multi-level display.
Great for stores with limited floor space.
Utilize corners of retail store without inhibiting visibility.
More permanent fixture than freestanding.
You can hang your wall panel system on your own or hire a licensed professional. If you plan to use your wall panels to hold heavy and larger items, we recommend having a professional handle the installation.
Freestanding Fixtures
From full-size gondolas to petite countertop spinners, freestanding slatwall fixtures come in a huge variety of styles and sizes. Unlike wall panels, these fixtures offer more flexibility and creativity for designing your store's layout. They can be placed in the center of the sales floor, near aisles, beside queue lines, or even nestled into tight corners.
Want to learn how to design the perfect store layout with your slatwall fixtures? Check out our guide to visual merchandising here to find the best techniques and tricks.
Accessories, Attachments, & Add-ons
Slatwall fixtures are practical and flexible, but it's the accessories and attachments that really drive its versatility. By swapping out your accessories, you can transform your display of shampoos and conditioners into a literature stand in minutes. They can come in a variety of colors (like black, silver, and white) and finishes as well as material.
Conclusion
Even though there are endless choices of retail displays out there, slatwall is still the backbone of most store displays. While other fixtures may fit a specific need, they often cannot compete with their slatwall counterparts in terms of versatility, durability, and ease of use.
Plus, merchandisers and retail stores aren't the only groups who recognize the power of slatwall. They can also be found in residential garages, flower shops, schools, and any place seeking a smart storage or display system.
So, which type of slatwall fixture is right for you?