Food Displays for Storage and Advertising
Food Displays Include Bins, Covers, Domes, Trays, Caddies, and More!
These restaurant supplies are food displays that not only store items, they enhance them as well. Most domes, covers, stands, bins, caddies, and bar supplies are appropriate for use wide array of establishments. Restaurants, bakeries, catering companies, hotels, and even home makers find these food service displays result in a more efficient and better presentation of foods. While the various categories seen above all constitute restaurant supplies, each category is unique, dedicated to a specific type of product, such as bulk storage bins, bar caddies or gravity dispensers. Menu and poster frames are offered for advertising in both restaurant and retail settings. Much more than food displays for holding cakes and beverages is offered in this selection of products. While a huge selection of domes and trays is offered, other product categories include sign frames, table number stands, and wicker baskets.
What makes these food displays such a great deal? Each tray cover or dome not only stores items, it enhances the foods it holds. As a result, each food display helps drive sales for the restaurant or bar it is used in! In busy environments, this restaurant equipment can be used repeatedly. These food displays will not need to be continually replaced, like less durable restaurant supplies. These domes, tray covers, gravity bins, and cases sell at prices that make them an incredible value. Guests at your restaurant or event will notice the time and care put into the presentation of food when these displays are used. Each food display, also called catering equipment, balances a quality construction with an affordable price. Buy a tray to hold baked goods next a checkout register. Purchase a cake dome to prevent contamination at catered events. Order a gravity bin to dispenser cereal at a hotel continental breakfast. The options are numerous when shopping for restaurant supplies on this website! Many of these products, such as gravity bins, also favored by retailers for dispensing candy as well.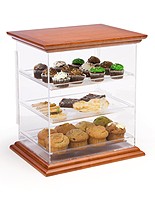 Why invest in a food display?
Domes, covers, and dispensers protect contents from contamination.
Food service displays enhance the presentation of cakes, baked goods, and other items, resulting in higher sales.
The organization provided by bar caddies and cases result in a more efficient food service establishment.
Food displays, also known as cake covers and trays, preserve freshness.
Products, such as sidewalk signs and table tents, capture customers' attention and draw them into restaurants and bars.
Trays come in many sizes, styles, and materials. Round dishes are offered for cakes, cookies, and other baked goods. Many round trays are clear, allowing a decorative liner to be placed in the bottom for an added touch of style. More traditional serving platters manufactured from plastic are offered in solid colors as well. Pedestal trays for caterers and bakeries desiring a more presentational look for their foods are offered in addition to traditional trays. These units are ideal for making cakes stand out from other foods in a buffet line. Most of these trays feature a plastic or acrylic construction. There are many advantages to a plastic unit over a stainless steel tray. Plastic trays are lighter and much less expensive than a stainless steel unit. Additionally, acrylic serving trays have many of the same advantages over a stainless steel tray that a plastic unit has. This online catalog sells tongs and scoops as well. Purchase tongs, in conjunction with a tray to provide customers with an instrument to select items with. Many of these serving trays have corresponding tray covers to protect freshness.
Domes fit over most of the trays offered on this website. Each dome is specifically designed to fit over one of the many trays sold on this website. These tray covers are ideal for home or business! Many of the attributes of these cake domes vary. First, most tray covers have either a metal handle with chrome finish or a molded-in handle. Domes with a metal handle have a much more upscale appearance. However, a unit with a chrome handle often has a slightly higher price point. The hinged tray cover is ideal for a buffet line. The dome can be lifted from either side due to the hinged design, allowing access to guests on both sides of a buffet table. Another tray cover favored by restaurants and hotels offering a buffet is the end-cut or center-cut dome. Tray covers with an opening enable customers to select items quickly, while still providing some protection against the spread of germs. Each dome has a design that balances the needs of different establishments. Full tray covers are better for preserving freshness. Open-cut domes are ideal for busy establishments that want to provide customers with quick access to foods.
Why buy tray covers from this online catalog?
A diverse selection of sizes is offered to showcase many items.
Tray covers & cake domes made from plastic, acrylic, and polycarbonate are all offered.
These restaurants supplies sell at wholesale price points, making them a great bargain.
This website simplifies shopping for equipment, as both bar supplies and sign frames are offered.
Some of the more popular equipment among retailers is gravity dispensers and bulk storage bins. Additionally, hotels often use these restaurant supplies for dispensing cereal at a continental breakfast. Retail candy stores are frequent purchasers of these gravity dispensers as well. These candy dispensers are very effective at preventing contamination of contents held within. Employees never need to touch the contents in order to make the sale. Storage bins, called gravity dispensers, are the ideal product for high pace service environments. Another advantage to these bulk organizers is they efficiently store foods, while taking up a minimum of space.
Another popular type of product among retailers and bakeries alike is the muffin case. Cases are a great way to showcase baked goods. Retail store fixtures for bakery items are ideal for placement by a checkout registrar to temp patrons into buying a snack before leaving a store. Most cases have multiple shelves and a clear construction to allow patrons a full view of contents held within. Retail foods cases are much like clear tray covers, in the fact they allow customers an unobstructed view of foods inside. Most cases can be used for retail goods other than foods as well. Why are these storage bins ideal for holding small retail goods? They the ideal presentational case because they have a durable construction and low price point, saving retail stores owners money.
Much of this catering equipment can be used as retail store fixtures as well. A prime example are these food display stands. This sample tray with cover is often used in supermarkets and wholesale outlets. These food display stands are offered in various styles and with or without accessories. Some of these attachments include a trash bin, napkin holder, and sign plate. Use a food display stand to offer free samples and to entice shoppers to buy the product being featured.
Condiment caddies & bins are another type of critical restaurant equipment sold here. These condiment organizers are essentail to many in the food service industry. These table top organizers are essential for making an establishment look clean and well organized. Condiment caddies, dispensers manufactured from coil steel, plastic, and acrylic are offered. Some tabletop organizers even come with a sign clip, allowing dinner or drink specials to be displayed! The condiment dispensers with three bins are very popular among offices for holding coffee packets and accessories. Sugar packet dispensers for home or restaurant are available as well. Everything needed to organize a dinning table is offered. Mix and match these condiment dispensers and coffee organizers to make tables at your establishment look great! Many of the condiment holders are just as functional for use in a buffet line. The condiment dispenser is not the only type of dispenser offered here. Drink fountains are offered as well! The drink dispensers are used by a multitude of different establishments. Hotels, large chain restaurants, and bars all use the coffee and drink dispensers to facilitate fast service of their clientele.
Wicker baskets make great alternatives to retail cases, storage bins and gravity dispensers. This selection of storage bins is made from many materials including handmade willow and polypropylene. Also available in the wicker basket and bins category are metal racks to for use in conjunction with the baskets. When combined with a rack, the baskets form a stylish retail store fixture. To further enhance the retail store fixtures, sign clips are offered to hold advertisements. The choice between wicker baskets and other bins is clear. When the budget allows, wicker always looks better than a generic retail storage bin. These retail store fixtures, also known as catering equipment, enhance the merchandise they hold!
Bars, restaurants, hotels, and catering companies are increasingly shopping on this website for supplies and equipment. New and exciting catering equipment, storage bins, bar caddies, dome covers, bakery cases and much more are continually brought to market via this website! While this company has been a leading source of marketing and advertising products since 1974, in recent years this online catalog has become a leader in selling storage bins, covers, domes, and bar supplies. As a leading online retailer of wholesale advertising stands, this company deals in bulk quantities of products. The hospitality industry is now leveraging this company's purchasing power to buy cake domes, muffin cases, and storage bins at low prices via this website. This online catalog is also the ideal source for extra catering equipment and storage cases needed on short notice! Purchase table cloths and number card holders to form a cohesive presentation to direct guests to seating assignments. Then, add bar or tabletop caddies to organize the tables.