Food Truck Displays and Furnishings that Cater to Your Customers

There's no doubt that food trucks have become more prevalent in recent years. Part of the reason for their growth in popularity is due to an increase in consumer demand for quick and inexpensive meal options that arrive on wheels. Reality TV has also played a part because there are new shows dedicated entirely to the topic, like Food Network's "The Great Food Truck Race" and "Food Truck Face Off". However, perhaps the biggest reason for the surge in street vending popularity is that the owner/operator can spend less and get more out of a mobile kitchen than a traditional restaurant. The best part is that your customers can still get a great deal even while you streamline your earnings. Street vendors are renowned for experimentation and fusion food, often displaying unique daily specials on their menu boards. Now that we have established that food trucks are very popular and understand why, let's think about some ways to make your "restaurant on wheels" the best it can be! On this page, you'll find our curated selection of high-quality food truck displays that are sure to grab the attention of customers and increase your bottom line. Shop anything from custom printed banners and flags to sidewalk signs, condiment dispensers, and write-on menu boards!
Menu Boards and Sign Displays for Food Trucks, Street Carts, and Mobile Kitchens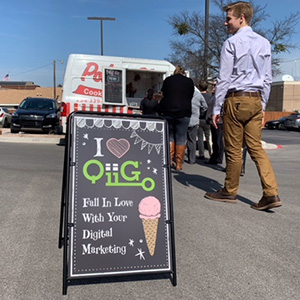 Whether it's every grilled cheese variety imaginable or just simple hot dogs, every food truck has its specialty. Regardless of what you sell, you have to make sure that customers know what you are offering. Food truck displays in the form of flags and banners provide high visibility to attract hungry patrons. While most rolling restaurants feature their name or pun-filled brand painted brightly on the side, the name doesn't always explain what's actually on the menu. Some carts serve classic Americana, like burgers, fries, and shakes, but others offer authentic Mexican burritos. To make sure your mobile kitchen stands out from the rest, you'll want to add a custom feather flag or hanging banner that explains the fare you offer. You can also do this with sidewalk signs and sandwich boards. Here, you'll find designs that feature write-on surfaces or hold pre-printed posters. Any of these food truck displays will allow you to customize signage to your specifications.
So you've successfully educated prospective customers on the types of foods you offer from a distance, but what will you do now once they're standing in line?
Menu boards are the perfect solution for displaying food truck menus and pricing. There are several different designs, but every option allows you to tailor each item and price to match your business' needs. Marker and chalkboards enable street vendors to add to and change offerings on the fly. Poster frames rated for outdoor applications display pre-printed graphics as well as menus. Bulletin board cases are also weatherproof and provide more space for more items. Featuring locking doors with waterproof gaskets, these menu boards offer upscale, professional-quality displays for your menu selections.
Payments via iPads and other tablets are widely accepted for completing transactions. Our large selection of countertop iPad stands and enclosures provides quick and easy customer fulfillment. We offer holders with secure locks, rotating bases, and tilt functions to facilitate transactions between employees up inside the truck and patrons standing outside.
Which brings us to social distancing. While businesses are reopening, safety measures are still required and essential. Provide a safe barrier at the truck window with hanging or countertop sneeze guards. These shields are manufactured from clear acrylic with many styles available. Choose a simple hanging barrier or opt for a counter stand with a large window at the bottom for passing through food orders. Offer hand sanitizers to customers for additional peace of mind. As for you and your employees, keep personal protective gear in the form of gloves and masks close at hand with our acrylic bins and dispensers.
After your customers have made their selections and have served their orders, they'll probably be looking for napkins, plastic utensils, and straws. Keeping these disposable paper and plastic goods accessible will certainly keep patrons happy. You may also want to get a countertop organizer to keep these items neatly arranged. We even offer convenient caddies, squeeze bottles, and dispensers for your condiments, dressings, and seasonings.
Once customers have collected everything they need for their meal, they'll be looking for a place to sit down and eat. While many food trucks are parked in a location only temporarily, some either travel the same routes with known picnic tables or park in a more permanent spot with many other vendors. If your food truck is parked for an extended period of time, consider providing tables. Our plastic folding tables for mobile kitchens are perfect because they are inexpensive and fold up neatly while not in use. The scratch-resistant top also cleans quickly, saving you time and effort. Umbrellas are another great amenity and come with custom printing for even more branding power. Because street vendors and their customers always have to contend with weather, food truck umbrellas can protect customers from the hot sun and rain. Trash cans are yet another essential purchase for mobile kitchens. Our outdoor-rated waste receptacles allow you to keep the area surrounding your setup clean.
Street food vendors offer a fast and fun way to enjoy a meal while attending farmer's markets, art festivals, sidewalk fairs, and beach-related activities. But these outdoor activities are not limited to daytime hours. Cater to late-night revelers using LED illuminated food and bar displays that offer mesmerizing colors motivating patrons to spend more money!