Plastic Price Tags For Delis and other Food Retailers
---
Bar & Restaurant Plastic Price Tags Holders
Are you looking for plastic price tags for your food service institution? These pricing labels are the ideal solution, as they are affordably priced. These plastic price tags are engineered for use by supermarkets, deli departments, bakeries, and other food service locations. Each sign includes a write-on area for users to write their custom messages. Plastic price tags, such as these wipe-off signs, are therefore ideal for business with frequently changing signage. Wet or dry erase labels with custom written messages are easier to use than signage with stock, generic messages. Write on plastic price tags are also much more affordable than sign kits with stock labels.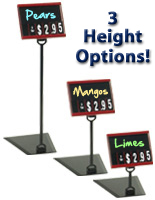 How can these pricing labels be used by these types of business?
Fish markets often use plastic price tags to identify specific items, such as types of oysters or the location where the product was caught.
Grocery stores place these signs in shaved ice to display pricing of particular items.
Delis and butcher shops position the plastic price tags with spears in their individual meats and cheese, to display current costs by the pound.
Retail locations utilize the plastic price tags with stands amongst merchandise to display sale pricing.
Plastic price tags are also customizable signs. Some of the labels in this category feature number wheels on the back side. This enables users to quickly update displayed pricing. These labels with four rotating wheels also include a measurement wheel, with unit increments of LB, 1/2LB, 1/4LB and EA (each). Prices can be adjusted up to 29.99 with these signs. There is also a 2/FOR option as well. This particular sign style also comes with a checkered border, in various colors. The border highlights custom messages to make your pricing stand out amongst the items being displayed.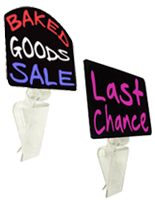 Other signs in this category include an accordion-style, number changing system. Each number strip is double-sided and features white lettering on a black background. A total of 6 number strips are included with each pricing tag. In order to change displayed pricing, users must first slide out the cassette from the sign frame. The cassette features 6 slots to easily slide the accordion number strips into. These slots prevent your numbers from falling out or turning within the sign, making them harder for consumers to read. Once the cassette is removed from the frame, simply remove the desired pricing strip, unfold and refold the strip until the correct number or unit of measure is displayed.
Customizable signs with pricing cassettes or cases also include a removable header. Users can modify this piece of material with either wet-erase markers, or they can have custom vinyl text applied for a more permanent solution. The header can also display a company logo or catchline, in addition to the names of food items or on-sale merchandise. The PVC header can therefore be interchanged with some of your other signs as well.
What types of pricing strips are included with this particular sign option?
(1) Strip with a dollar sign and units of measure, including: 2 for, 4 for, 2lb., 5lb., /ea., pkg., bag, /lb., ¢
(1) Strip with dollar sign, number 1 (1), slash (/) and units of measure, including: 1lb., 3lb., 10lb., each, /pack, pint, bunch
(2) Number Strips (0 – 9)
(1) Number strip with decimals (.0 - .9)
(1) Number strip & dash (0 – 9)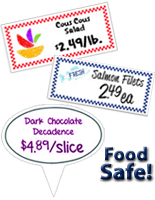 These signs are exceptionally versatile, as each label includes a write-on area, as well as changeable numbers for pricing. Users can write custom messages in the designated areas using wet-erase or liquid chalk markers. Write on/wipe off signs can therefore be changed in mere seconds. Simply use a damp cloth to remove the custom written message. Markers are not included with your purchase of any of these signage options. However, this site offers a variety of markers to choose from that are sold separately.
Many of the signs in this category come with either a stand or a designed-in spear, for users to place their signage in and amongst the items being sold. There are a few styles of pricing labels that do not come with a stand. Sign holder clips are sold individually on this website, for your convenience. The labels measure 1/32" thick, ideal for use with almost all of the clips offered here, which are also sold separately.
This site is home to hundreds of food service supplies for restaurant locations, including outdoor a-frames, menu boards, and display risers. Many of the offered displays are stocked to offer customers some of the shortest shipping lead times found everywhere on the web. In business since 1974, Displays2go has become one of the leading sources for quality marketing display products and fixtures for various industries. Food service is one of our biggest categories. However, this online catalog includes fixtures for trade show, retail, financial and residential use. With more than 1 million displays in stock, customers are sure to have their order in no time. Other online competitors cannot compete with the services this company has to offer.